Are you looking to improve the visibility and ranking to increase downloads of your app? If you ended up on here, the answer is most likely yes. The purpose of this blog is to shed light on the importance of ASO and a/b testing in efforts to increase conversions.
Increase downloads by optimizing
App Store Optimization is essentially improving your app's store page in order to gain visibility, increase the ranking, and ultimately get as many downloads as possible. There are different ways of doing that such as targeting keywords, using enticing screenshots and icons, localization, and selecting the right category. Optimizing these aspects continuously can help boost conversion rates but how do you know what appeals to your target audience? Trial and error is one way to do it, and probably the most common way too but there is another, more effective way, to find out.
Stop guessing start measuring
The secret is a/b testing! It entails comparing two variants against each other to see which variant performs better. In this context, it could be testing app icon A against app icon B. The app store page will look identical in all other aspects except the icon. Each variant will be shown to users in the same target group randomly to gain the desired amount of impressions to reach statistical significance. The results will show which variant received the most downloads which will be the likely winner if compared against each other again. In addition to key figures, the best ASO a/b testing tools will give insight to user behavior and motivations to install .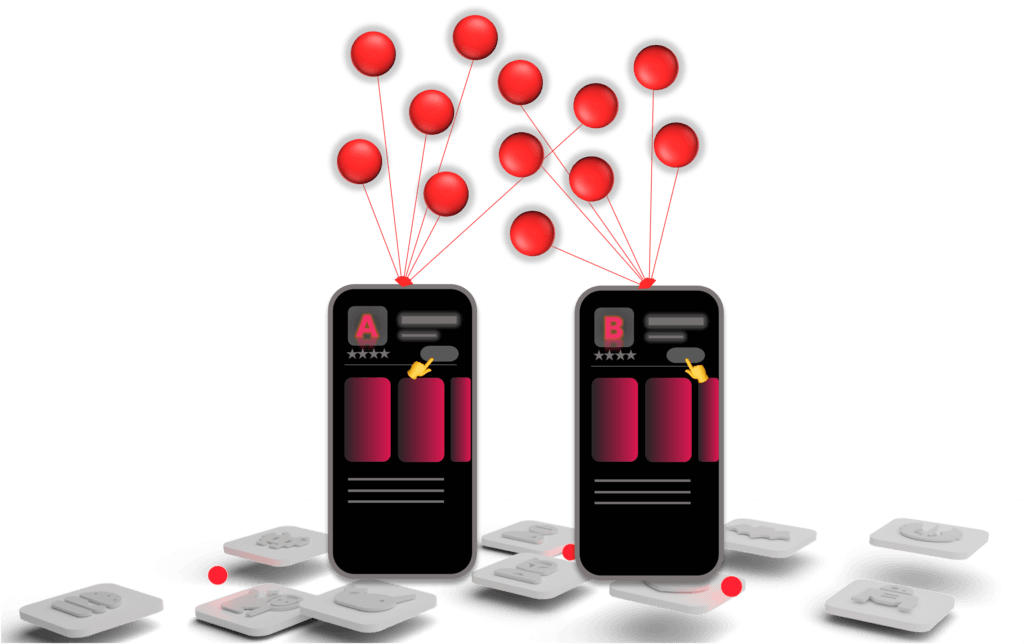 Testing can be done on any store page element such as the icon, screenshots, description, theme, etc. The unmatched benefit of running a/b tests is that you receive results based on data and not having to guess. It is especially beneficial for concept validation in the product planning phase. Deciding a theme for a game can be tricky so instead testing those themes against each other would give statistical data on which theme is the most appealing. This could save both money and time by not shooting in the dark. We have written a separate post on concept validation before, find it here for more on this topic.
Here to help
In Geeklab you are able to set up a/b test campaigns in minutes. All elements of the lookalike store page are customizable which makes testing and running campaigns easy peasy. The dashboard has plenty of great features, such as Assetlab, to create visuals The results will show the statistically winning variant but most importantly crucial insight into user behavior that will further help optimize the store page.
TLDR a/b testing gives you results backed up by data when optimizing your app store page. No more shooting in the dark when you know what the audience prefers and brings more conversions. Geeklab is the one-stop shop tool for ASO and testing you need.
Nice 👍
Ready to start testing? Great, start here!