Wondering which ad network to choose for your A/B testing campaign? Well, here are some pros and cons to help you choose. From our experience, the most commonly used network for A/B tests on Geeklab is Meta, but we have also seen TikTok gain some more traction.
Meta
Meta's Facebook and Instagram engage billions of people monthly. It is no wonder why it is a popular network to advertise in. Being very content-heavy platforms it is easy to get lost in the masses but by their good targeting features it is possible that your ad gets shown to just the right people.
Pros
The amount of users on both platforms alone is an advantage. Luckily also the targeting and re-targeting options are one of Meta's strengths. This enables more efficiency and likelihood to reach the most relevant people. Facebook and Instagram also support easily customizable ad types, such as single image, video, carousel, and playable ads. In addition to this, there are several different possible ad placements that are determined by the ad's objective. Advertising on Meta is also relatively cheap, which is great for running A/B testing campaigns.
Cons
Both FB and IG are very saturated with ads in general. This can lead to ad fatigue in users and be reflected in low conversion rates. The ad policies are also mysterious and it is not unusual to have your ad account banned for whatever reason. It also doesn't help that the user interface is frankly terrible and inefficient. Navigating through all the warning signs is a whole other story. Warnings that are not actual warnings pop out of nowhere and some really have no effect on anything, other than annoying the user.
Who's there?
Facebook and Instagram users are mainly between the ages of 24 to 44. As younger generations have moved mostly toward TikTok and Instagram, Facebook remains popular among millennials and Gen X.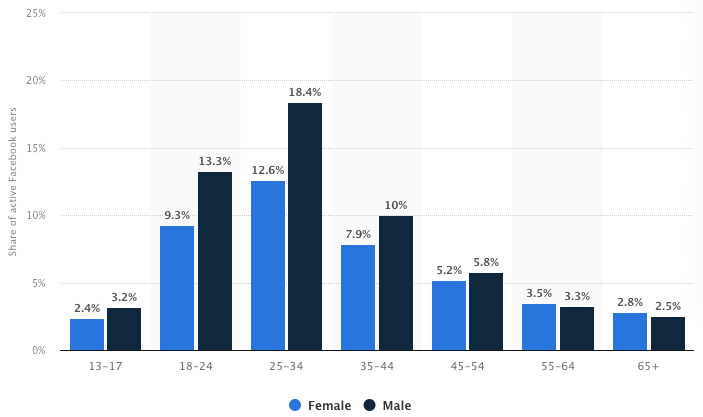 Google Ads
You might want to consider using Google Ads for running the ads for your A/B testing campaign. One of the benefits of this ad network is how quickly and easily you can get started. While there's definitely more to Google Ads than just creating campaigns and ads, these are the essential components that you can set up without too much hassle. Setting up isn't too complicated and the ad will be out as soon as it is approved, which can be immediate.
Pros
Google Ads is the best for Android user retention. Its other undeniable pros include its large display inventory which enables visibility in many places, including apps. It also enables different targeting possibilities, for example being able to bid for placements in specific Youtuber's videos that have a relevant audience. Or targeting a much broader audience if the aim is to get as big of a reach as possible. The variety of ad formats also helps pick the most suitable ones and see which brings the best results.
Your budget can be anything you are willing to spend and it allows control over your spend. This also means that once the set budget is spent, the ads turn off.
Cons
Getting used to the platform takes up a lot of time and is unnecessarily impractical, compared to that of for example TikTok. Our experience with using Google Ads as an ad network in A/B testing is limited as most prefer ad campaigns on Meta. However, Google has proved to work quite effectively according to our research.
Who's there?
Everyone. Which in turn emphasizes the importance of the right kind of targeting.
TikTok
TikTok's skyrocketing journey to being one of the most popular apps has been extraordinary. What started as a platform for teenagers to publish lip sync and dance videos, has now turned into much more. The short-form video content ranges from beauty, lifestyle, and art, all the way to educational, informational, and anything in between. For the younger generation, Gen Z, the platform has turned into a substitute for traditional search engines.
Pros
What acts as an exceptional advantage for TikTok is its unique reach and engagement. It is no longer an app mainly used by teenagers, but rather an app for young adults and adults alike. Video ads may seem like a resource-heavy thing to do but actually, TikTok and its viewers prefer more authentic and unpolished content. The less it looks like an ad and more like a TikTok the better. From our experience, TikTok is great for cheap engagement. TikTok also provides possibilities for free visibility thanks to its algorithm, which enables viral videos better that any other social media platform. Besides being a good option for paid marketing, it can also be used for organic visibility with great outcomes. By having the right kind of presence it is possible to become closer to the audience and achieve higher engagement.
Cons
Creating the wrong type of content, that doesn't really appeal to the audience is easy. It is crucial to nail down the right type of content for the best results. Since TikTok runs heavily on trends, it is important to stay current, so creatives need to be kept up to date frequently. Therefore extensive and ongoing market research is a must, which makes it more time-consuming.
Although the older generations have also found their way to TikTok, the biggest audience is still between ages 18 and 29. If that is not your target group, it is good to note this when trying to reach an older audience. The older audience is also the one with more consumption power but if you aren't trying to get them to buy, then this shouldn't be considered a con.
The main challenge in our experience with using TikTok as an ad network for A/B testing campaigns is that if you do not have a U.S.-based company or office, you can't target the U.S. in your campaigns. This is challenging when you want to test the U.S. markets. More on the countries you can target per country here.
Who's there?
As mentioned, the audience tends to be on the younger side but has grown and is constantly growing its presence within the older generations as well.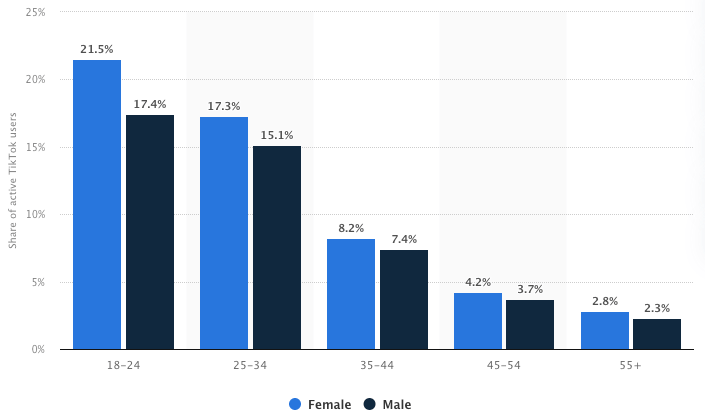 Snapchat
Snapchat alongside TikTok is one of the best platforms to reach Gen Z. It has steadily gained more and more users in recent years despite being over a decade old. Its ad options also differ vastly with the presence of AR features and more engaging ad types.
Pros
Like TikTok, Snapchat's advantages include having a large daily user base. The audience is mainly young, even younger than on TikTok. This could be great news if that is your target audience. The content on Snapchat is very engaging and creative, including AR, images, and videos. Snapchat also allows geolocation targeting. Which can be especially helpful for apps relevant to specific areas or locations.
Cons
The biggest limitations of Snapchat include targeting, ad formats, and analytics. While being great at geolocation, its other targeting options are not as good as on Google or Meta for example. Ad formats are creative and possibly memorable but limited amount-wise, which doesn't enable a very broad showcasing of the app or game. Additionally, the analytic tools of Snapchat still have some way to go compared to the more robust ones.
Who's there?
Gen Z. By far the biggest age group on Snapchat is 18 to 24-year-olds.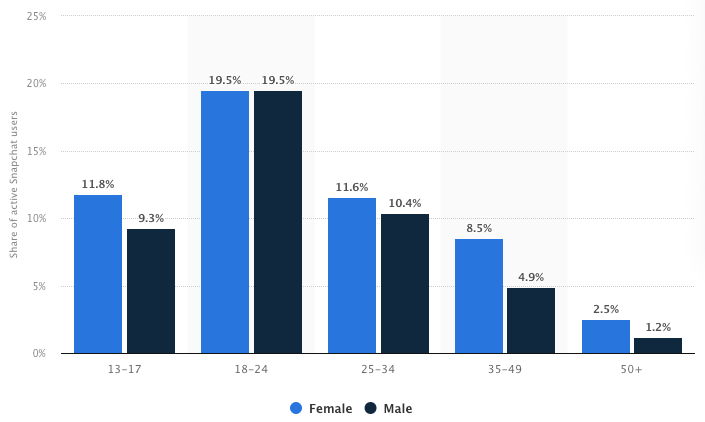 Conclusion
Choosing the best ad networks is ultimately a question of how well its capabilities match with targeting your audience and if the price point makes sense. When testing, the recommended budget per variant is around $500. It doesn't make sense to spend too much in the testing phase, but enough to get results. Geeklab allows testing on any network that allows website links on the ads.
Keeping up with trends, especially for TikTok and Snapchat is crucial, as they change constantly. Meta and Google on the other hand are not as heavy on the fast-paced trending phenomenon. TikTok also enables the possibility for organic growth by tapping in on the trends and going viral.
Below are some useful resources, benchmarks and examples.
Price point benchmark by WebFX
A viral TikTok trend by Dumb Ways to Die
Snapchat ads statistics by Business of Apps
Facebook ads statistics by Hootsuite