In the first series of this mobile games landscape analysis, we went through the top 200 performing games to see how they look in terms of Art Styles. We divided and classified those styles into various subart styles and game themes. If you missed the first part, I strongly advise you to read it here.
This time, I chose one of the main genres, RPG, and delved into it to see what was going on among their 9 subgenres. So, in this post, we'll look at each of them separately, analyse their creative styles, and identify who the greatest performers are and what their benchmarks are.
Big Picture of the RPG games
In the RPG genre, we can find a variety of different mechanics on these games, but their core should be the same in order to be considered an RPG. In an RPG, you control a character who grows as you progress through the game's world or storyline, defeating enemies. That is possible using a variety of mechanics. As a result, we can find RPGs ranging from Puzzles to Tower Defense. Creating hybrids game by combining pure mechanics from other genres with RPG. And, as we can see on the infographic below, the best-performing games are typically set in a Fantasy/Historical world with knights, dragons, and/or magic.
Because this game falls under the category of mid-core games, the artstyle and graphics are more developed and detailed than in casual games. Players are expected to spend more time playing it than casuals, so well-polished graphics are expected to entice them.
Also, manga art style, which is almost non-existent in some genres, has a strong presence in all RPG subgenres. It accounts for up to 43% of the top performing rpg games that we have analysed.
Before you dive into the download and revenue figures, it is important to make clear that all of the data shown on this article represent an average estimate of the market for the last 30 days.

Revenue and downloads do not always go hand in hand. That is clearly visible in the image above. Actually, the RPG subgenres have a revenue and download distribution that is roughly distributed through them. We have subgenres with a large number of monthly downloads but a low RPD (Revenue per Download) when compared to subgenres with a small number of downloads but a high RPD. This does not necessarily imply that all subgenres with high RPD and low monthly downloads are niches, but it can provide insight into how the user behaves and how that specific market performs on average.
Puzzle RPG
These games, which combine match-3 and role-playing game mechanics, are constructed with a meta-layer for character development and a core layer for match-3 gameplay. The subgenre's motivations analysis shows that players that like a Puzzle RPG title favour collecting and exploration along with progress and achieving milestones over social elements, personalisation, and resource management.
RPG Puzzles also finds itself in an odd position because it can appeal to casual and midcore players. Because to its core gameplay, which is comparable to casual games, and its large meta-progression, which is more aligned to midcore games. This position may be "a match made in heaven" for both players, or it may not.
This subgenre is way more popular in Japan than in the US market. We can see games from this subgenre ranking on top 200 or in some cases in top 10 on the Stores. Some years ago, Puzzle & Dragons, won the title of being the first game in history to generate $1B in sales now this year hit his 10th years anniversary.
Here, the most common art style is Detailed Cartoon, with a fantasy theme and a warm color icon. Users tend to have a more decisive behavior (they install as soon as they land on the product page). Also, the screenshots on the stores on its majority uses a portrait orientation
Action RPG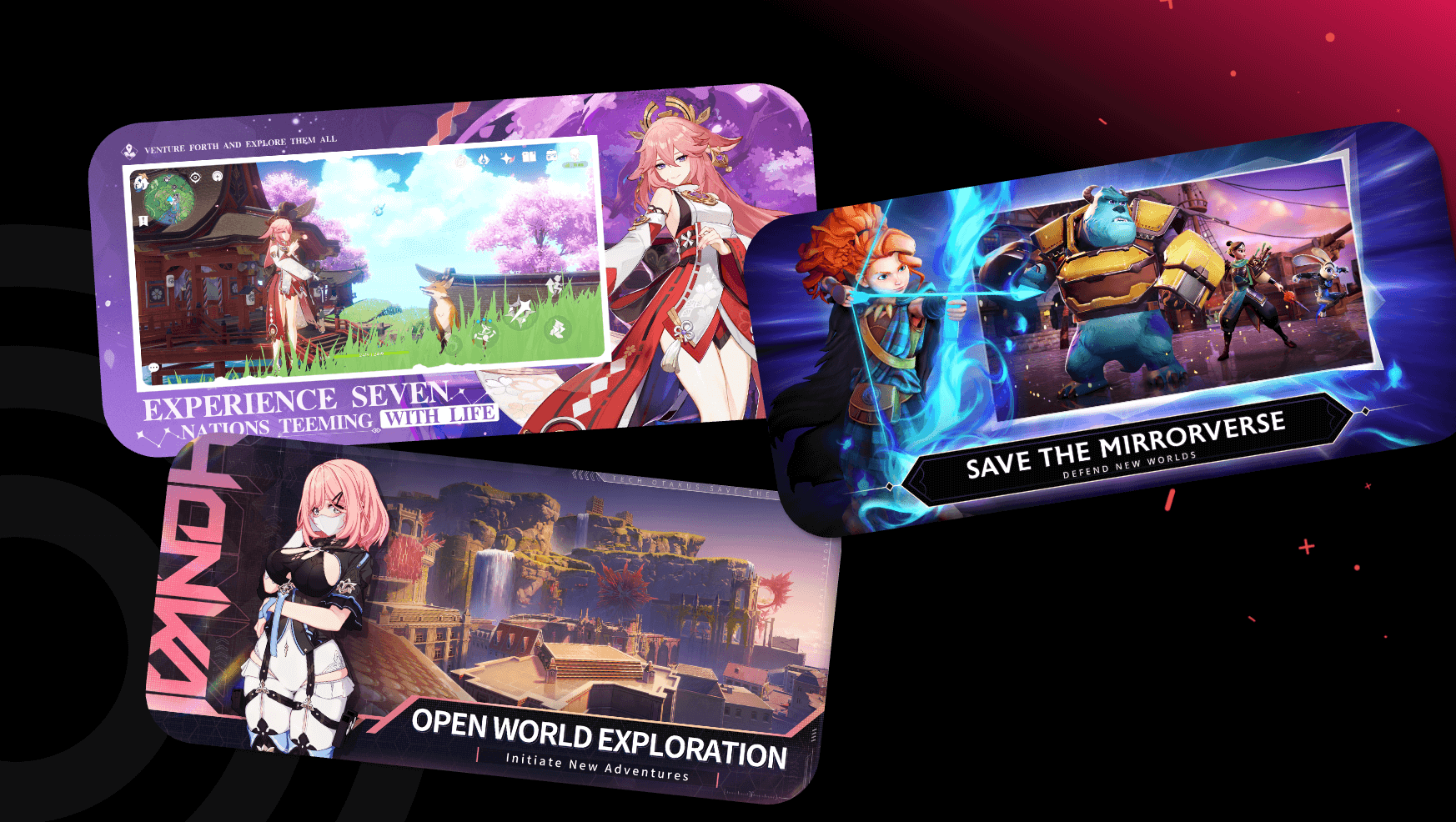 Action or action-adventure game components are incorporated into RPG games to create action RPGs. Instead of turn-based or menu-based combat, player has direct control over characters' movement, attacking, and skill usage.
This subgenre include games that have lately pushed the boundaries of what mobile games can do, such as Genshin Impact, which many people compare to the latest Zelda:BoTW. Despite some similarities, Genshin Impact has a different target and a stronger manga aesthetic. It is regarded as "the most successful launch for a Chinese developer's own IP."
Recently this year, Disney and Kabam released their own action-rpg Disney Mirrorverse, which for many gamers and Disney lovers casts a fresh light on famous Disney characters.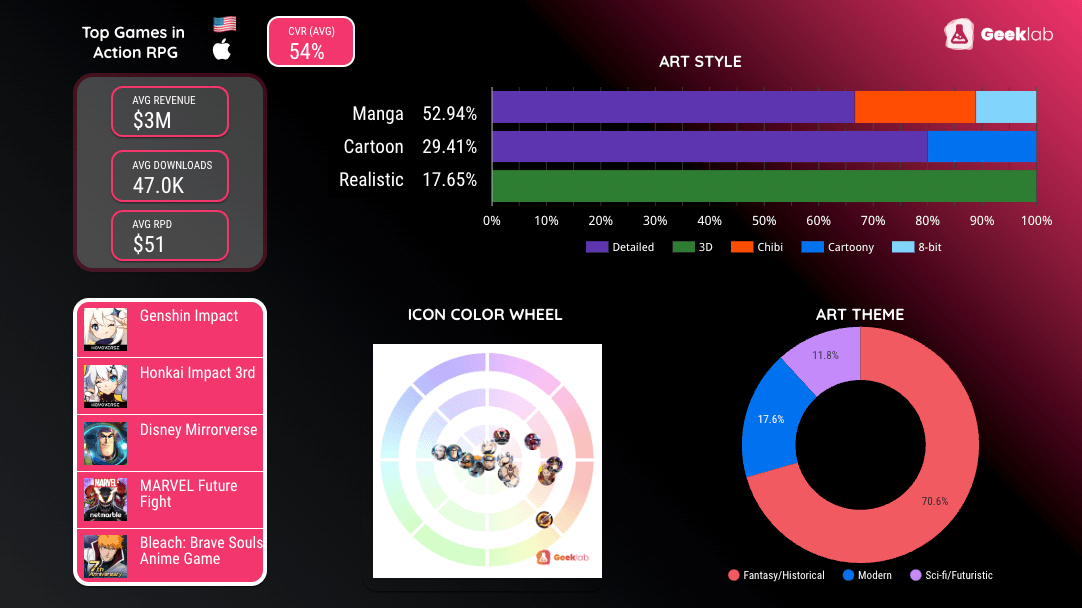 Manga Art Style may be seen in more than half of the games in this category. On this subgenre, having the screenshots in the stores in landscape is almost required; a few exceptions include having the game screenshots in portrait, but even in those circumstances, the potential user can see that the gameplay will be in landscape.
Sovereign RPG
In sovereign games, players take on the role of a sovereign, overseeing an empire or kingdom. RPG, storyline, and simulation/management components are frequently included in Sovereign games.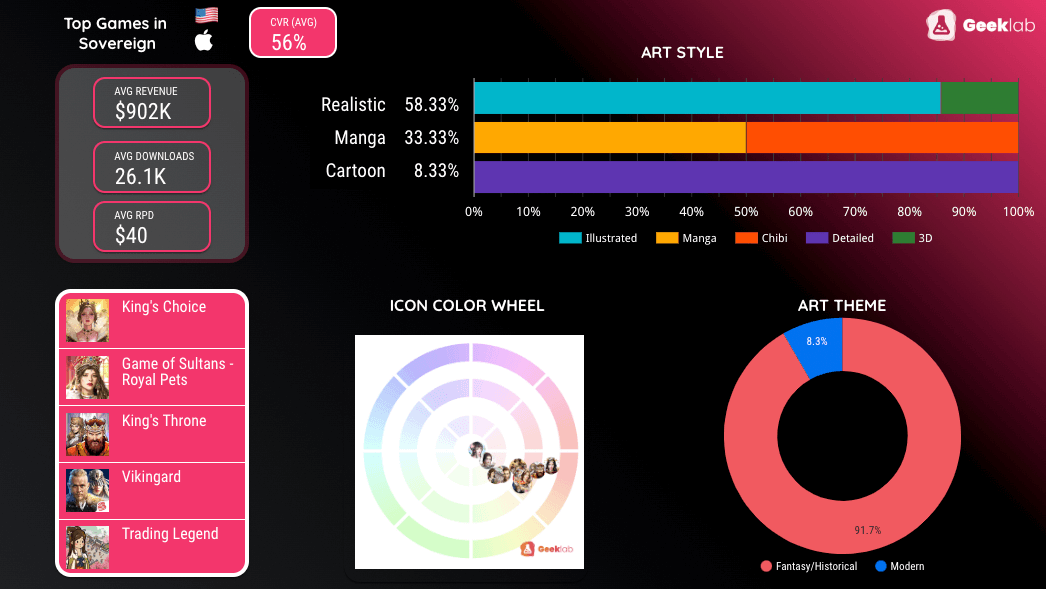 Visually, we can observe that the icons are frequently in warm colours, and the screenshots are usually in landscape to appeal to midcore gamers, even if the majority of them play in portrait mode. The most prevalent theme for this genre is undoubtedly fantasy/historical, although there are a few exceptions that seek to put a unique perspective on the thematic.
Fighting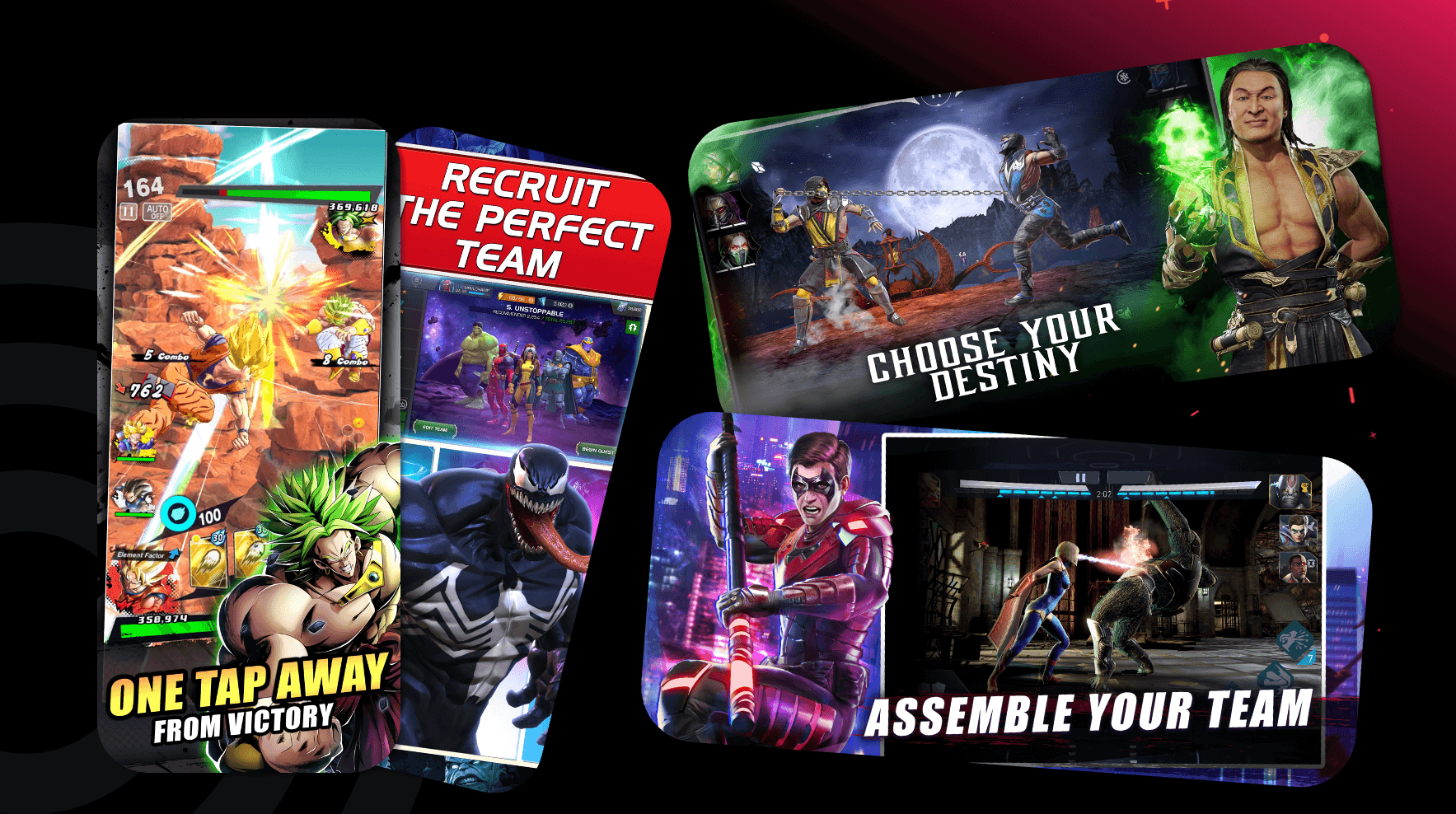 In this games, the user controls an on-screen character and competes in real-time one-on-one close combat with an AI or another player opponent. The battles are usually held in a confined "arena" environment.
On Fighting we found a different strategy about the screenshots. The gameplay in these games is mainly in landscape format, although some games use portrait screenshots but showcasing landscape gameplay. This allows the publishers to have more screen space on the product page for screenshots and to display more content about the game while still appealing to their core audience that is seeking for midcore gaming on landscape.
Manga art style falls to third place in fighting rpgs, with detailed cartoon being the most prevalent art style with a contemporary and/or sci-fi theme instead of the Fantasy that is more prominent in the other subgenres.
MMORPG
MMORPG refers to Massive multiplayer online role-playing games that may accommodate a high number of players, generally hundreds to thousands, in the same vast open world. This subgenre includes anything from PC port-games (Runescape) to exclusives (Ni no Kuni). Actually, Diablo Inmortal, one of the most anticipated mobile releases of this year, is a very obviously mobile-first MMORPG that has also been ported to PC and just surpasses $100 million in global revenue.
The most prevalent visual styles for this genre are various types of cartoon and manga, fantasy is the most popular theme for this game, and the icon colours are widely distributed around the colour pallete.
Tower Defence RPG
Tower Defence RPGs are mid-core games with sophisticated character and/or item advancement mechanisms and a meaningful plot.
This genre is notably popular because of the basic gameplay combined with the strategic death and high replay value. It also allows players to put their arithmetic and reasoning abilities to the test as they seek to establish a defensive perimeter.
Plants vs. Zombies 3, a new game for the legendary brand that EA pulled from soft-launch, have entered again on that stage for the second time in 2021 in select countries.
The games in this subgenre are mostly cartoony with a Fantasy theme, and the icon colours tend to be on the warm side of the palette. Because these games are mostly pure to mid-core, the screenshots on the stores are almost entirely in landscape.

Survival
In Survival games you strive to live in the wilderness by fighting creatures and/or other players while increasing your character's abilities and equipment.
Realistic themes play an important role in these games, which are spread throughout Fantasy and Modern themes. On the stores we can see that landscape screenshots are all about the gameplay.
Idle RPG
RPGs featuring a significant "idling" component, which means the game plays itself while you're logged off, and when you return, your characters have made advancement and acquired loot.
The Manga Art Style with a Fantasy theme returns as a primary art style for the Idle games. The icon colours are spread over the color palette, and the screenshots on the stores are a mix of landscape and portrait.
Turn Based RPG
RPG games in which you build and develop a squad of characters to combat adversaries in a turn-based battle system. Here we find the recently released Dislyte, which in its first few weeks of operation overtook some of the most well-liked games by abandoning the complex in-game mechanics of its rivals—especially those relating to upgrades—in favour of a more user-friendly user interface and more accessible gameplay for players who are less accustomed to these kinds of games.
This subgenre's primary topic is Fantasy/Historical once more, and the predominant art forms are cartoon and manga. Most of these games are played in landscape format, and several well-known IPs have created Turn-Based RPGs of their own.
Mid-core games are becoming more a more mainstream
In this post, we examined market trends of one of the most well-liked midcore game genres. Last but not least, the big picture shows us that when before Casual and Hyper Casual games dominated the top rankings, there has been a noticeable change in favour of midcore games.
This might make us think that new games are improving, more companies and studios are developing AAA games and taking the mobile market seriously. As a result, in some circumstances, new RPG and midcore games in general are living up to the high expectations that console and PC gamers have for them. Anyway, this is far from a sign that Casual and HyperCasual games are going away.
See you at the next blog series and I hope this post was helpful! If you have any questions, feedback, or disagree with something, you can reach me here!