Art Styles in Mobile Gaming
I've been playing mobile games for a long time and have noticed that many of them share similar features in terms of their visual style — so much so that it seems to influence the genre. This is not a secret for game developers. Some of them run several art style tests before launching their game to nail the style with their targeted audience.
In this part, I've analyzed the art styles of 200 popular mobile games in the US market and clustered them by genre, mechanics, sub–art styles, and theme. That way, we can take a look at market distribution.
In the next series, we will drill down into some of them and how they are distributed by mechanics and sub-art styles.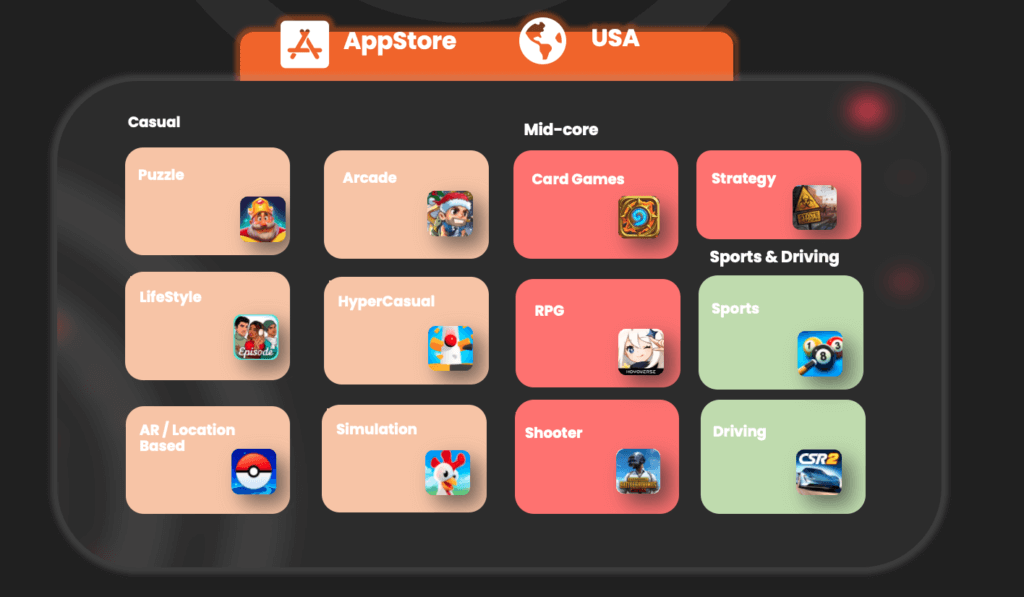 The process is fairly simple:
Firstly, based on the top 200 grossing games on the US App Store, we categorize each game's genre based on our taxonomy.
Then, looking at what they look like in the AppStore, we analyse the different art styles and themes distribution by genre, at a 3 level art style analysis: Art Style, Sub Art Style and Theme.
Classifying a well-known game such as Among Us (a survival strategy game) according to these three criteria results in the following categories: Cartoon Art Style, Minimalistic Sub-Art, and Sci-Fi/Futuristic Theme.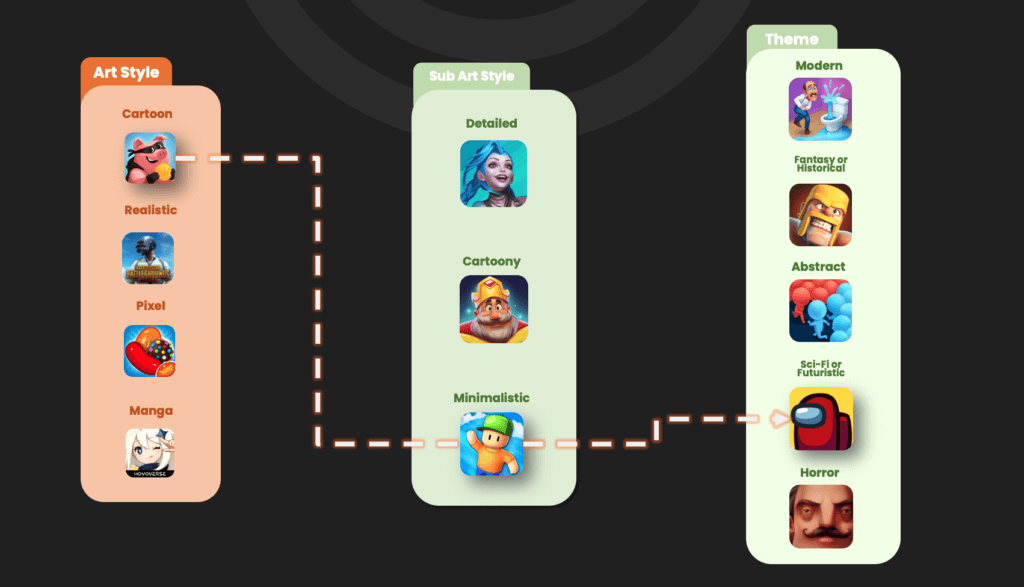 Art Styles and Market Status
While considering the top-grossing games, we can see that cartoon and realism are the most popular art styles, as we can see in the chart below. The United States is a big market for video games and can be taken as a reference for western countries. However, if we take a look at the top-grossing games in Japan, this would be different (by a lot).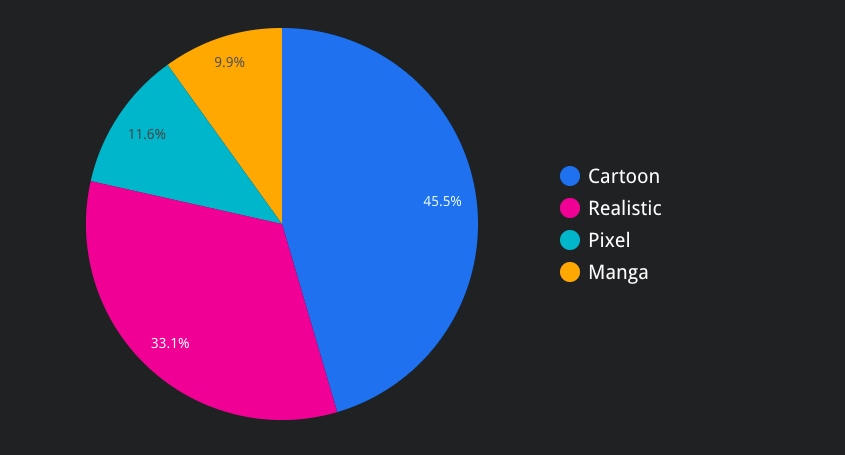 But this is the big picture, so to bring more light here we have broken down this into different mobile game genres. By matching the genres with the art styles, it is simple to see the distribution of how the best-performing mobile games.
When taking a close look at how art styles are distributed by game genre, we see some genres tend to use specific art styles more often than others and that certain genres favor very niche kinds of visuals.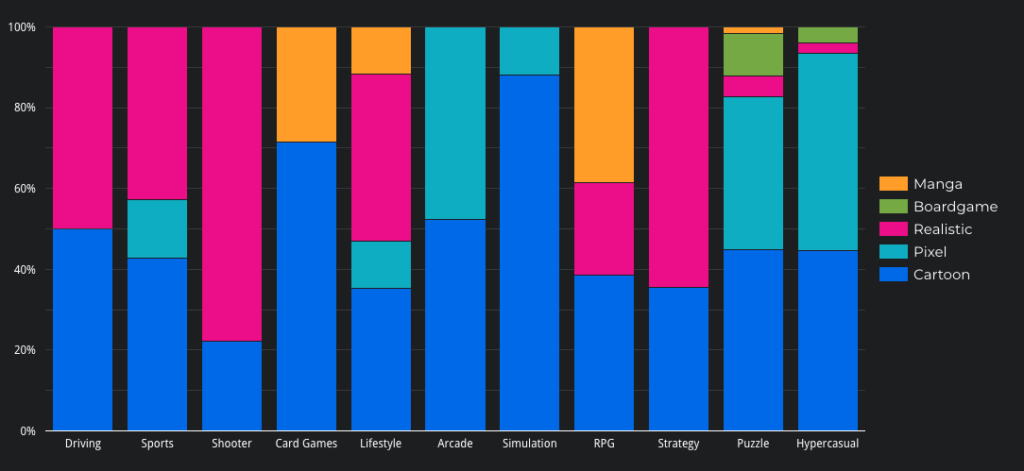 How the different Art Styles looks like?
After having a look at the market distribution, we need to have an Art Style Taxonomy to be able to categorize and break down the different art styles into sub-art styles that are shared by the majority of the games. So now, for the major four art styles, we have different sub-art styles.
A note of friendly caution: it may be tempting to read this taxonomy and think: "But what about my game…?". Well, as you can imagine, this is not written in stone. As mobile games evolve, this art style taxonomy will evolve also!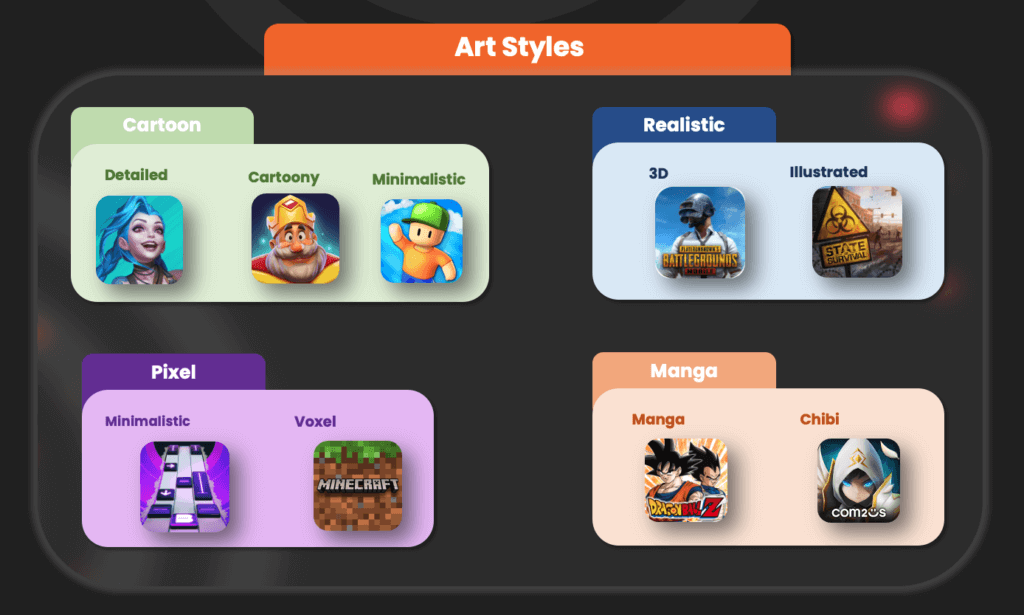 Cartoon
Cartoon is the most popular art style in mobile games. It is the only one present through all the genres of the best performing games.
You can easily recognize this art style by the use of bright colors, exaggerated proportions, rounded forms, simple proportions, and caricaturesque elements. It's a wide art style that can go from really detailed games like League of Legends: Wild Rift to more minimalistic and less detailed ones like Stumble Guys.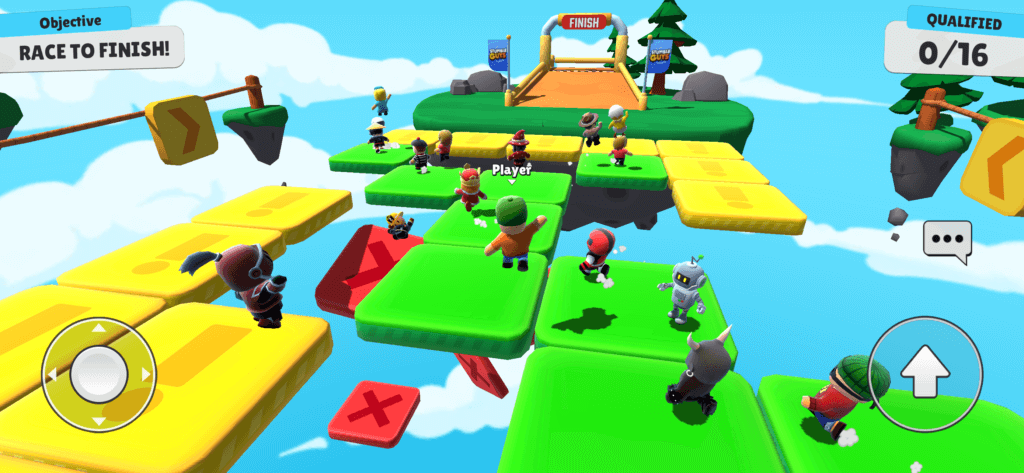 Realistic
The realistic art style is the second most popular among mobile games. In it, artists simulate the process of creating media that mimics real-life objects and characters of humanoid proportions. Also, these games don't always need to be in 3D, they can use illustration designs in a realistic way regardless. Typically these games use a high level of detail and lighting use that emulates the real world.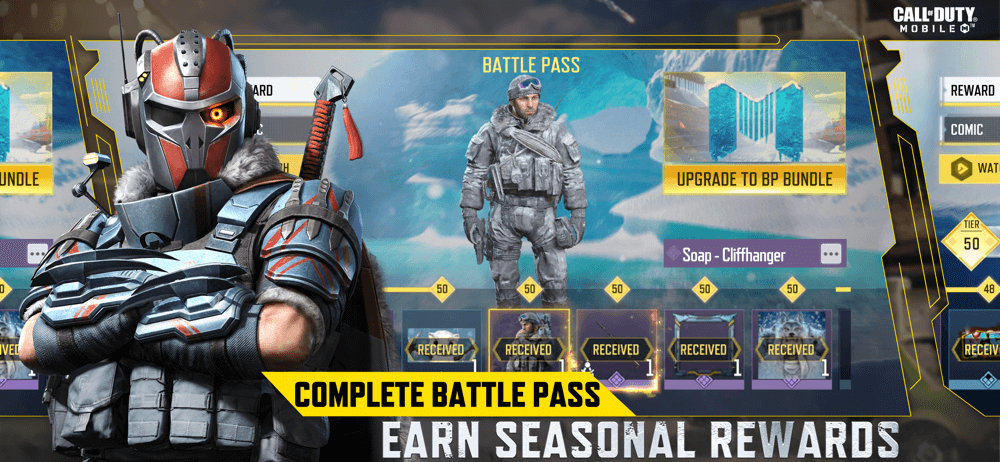 Pixel Art
In the Pixel Art style, we have games with a minimalistic graphic design that don't use cartoons. Moreover, these games use a reduced number of polygons and an abstract environment. This is gives them a retro-like theme, generally appealing to an older audience. Consequently, these games are often incorrectly referred to as an 8-bit or 16-bit art style.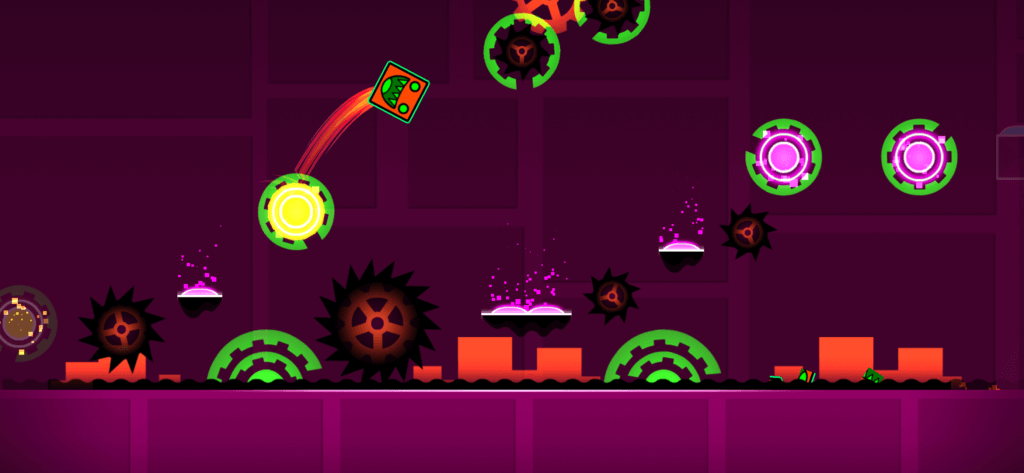 Manga
Manga art style is most popular in Japan, where it originated. The most successful Manga art style video games in the US are based on anime IPs. Whereas in Japan, Manga art style is frequently used in mobile games with a wide audience.
Manga is a unique art style that should not be mixed with the western-cartoon style. In manga, we see everything from characters with huge, expressive eyes and wacky hairstyles to highly detailed, realistic images. In this art style, action is frequently emphasized with the use of speed lines and graphic "sound effects".
Although manga and anime are not as popular overseas, we have included two styles for them: "Manga" and "Chibi." One is the most common way of it, and the other is an art style where the characters are shorter with big heads and a cute aesthetic or kawaii connotation.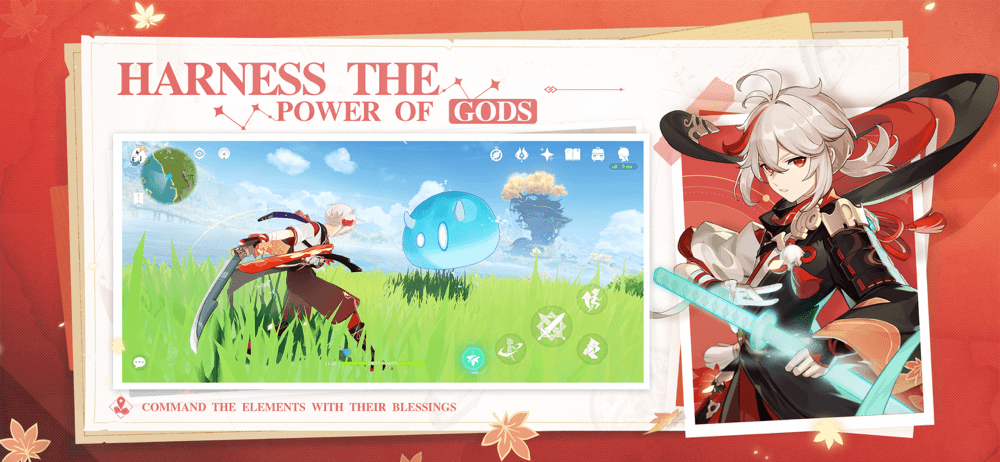 See you at Part 2!
I hope this post was helpful! Hopefully, you gained some knowledge for the next time you are planning to develop a game, do an art style test or do competitor research. If you have any questions, feedback, or disagree with something, you can reach me here! 😎
PS: Did you know that now you can easily create new screenshots for your tests right from the Geeklab dashboard? 👀