The one single element that follows you through the entire funnel despite whether or not the traffic is paid or organic.
For Apple's and Googles featuring, in most cases, the icon is all you can see and how your icon stands out and informs your possible user what your app is all about.
Be real to your product and follow best practices.
Colors can go a long way and help you either stand out against your competition or allow you to apply the winning formula. We analyzed multiple different categories and hundreds of top-crossing apps to see if there's something we can learn from what has been done.
…and there sure was.
Just by looking at the color palettes, we saw differences across genres. For puzzle and match-3 games, the color palette is super vibrant and reflects the saturated colors that can also be found in the games themselves. Surprisingly mid-core and other RPG titles are much more earth-like and darker.
Based on the top-crossing apps, it is clear that the color palette should reflect your game and audience. Even tho it might be tempting to add the Adobe's bright red #F60100 to your background because, according to psychology, it is appealing, don't.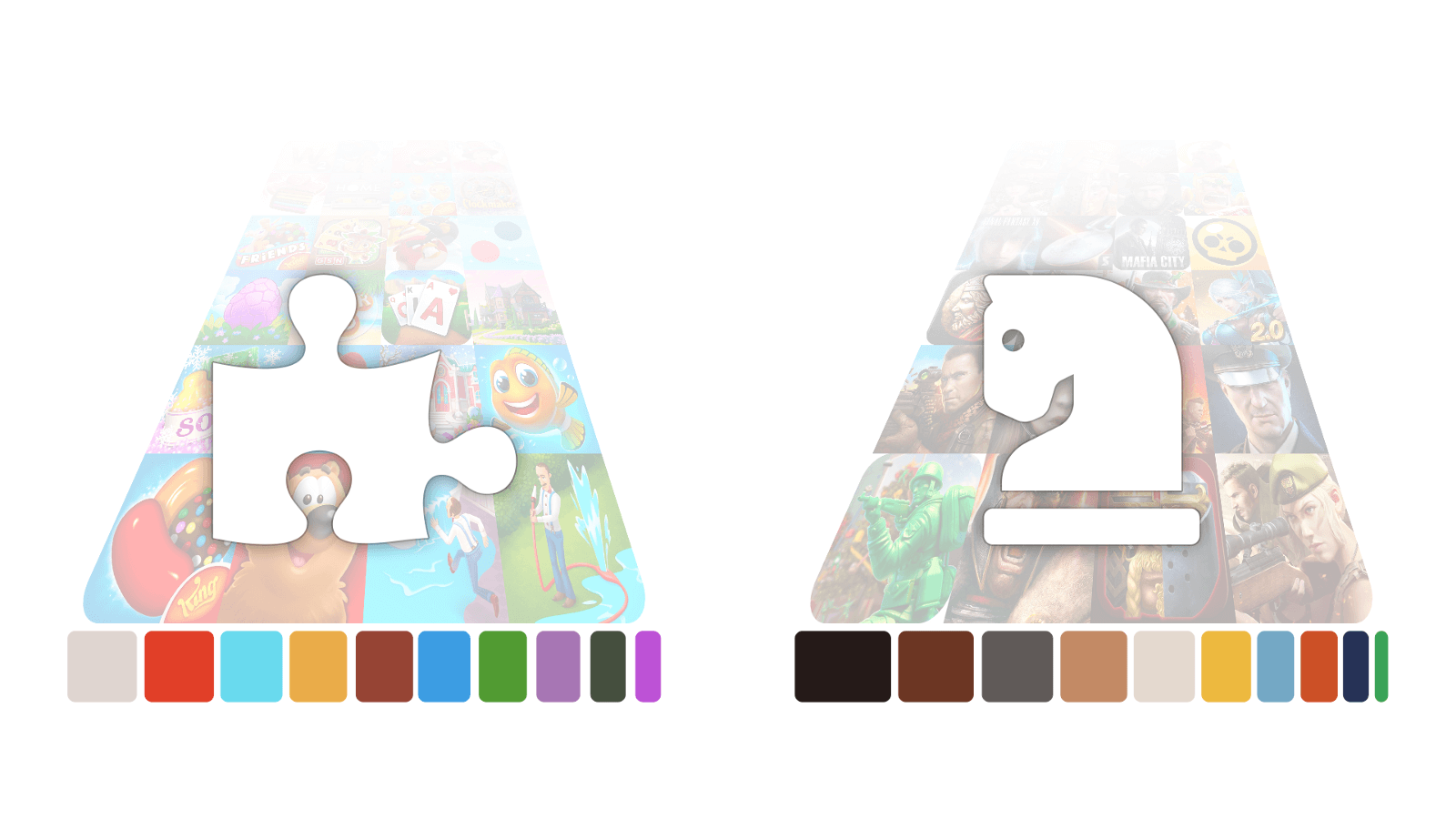 Being loyal to your product is also something you should be able to communicate through the icon alone. Taking a case example of European eScooter brands (free tip, your welcome).
Let's say you get lucky, or your hard work with pitching your product to Apple pays off, and you are getting featured on a new Apple category. Get to know your city. You get featured with your icon, but guess what.
Not a single e-scooter brand has an actual scooter on its icon in iOS App Store or Google Play.
Trendy and good-looking colors which are in line with the actual colors of the scooters. Branding done well, but for a first time customer who just stumbled upon a category called Get To You Know Your City, they might think that the scooter brand is about local sports, nightlife or even a restaurant, especially when most of the apps don't even have the word scooter in their subtitle.
Biggest differences between iOS and Google Play.
Size matters. The information payload is way different when you look at the header alone. The top of your product page is packed with a lot of different information and the icon competes for the attention.
The biggest difference between these two platforms is the size and amount of information. Google Play is packed with a lot more information and the icon is a lot smaller. iOS icon is way bigger and also the head section has a lot more space.