I love comparing apps and their success through SensorTower and thus I came up with a new series, where I actually test different free games which have been on the Top 3 of the month. I calculate the Top 3 for testing by seeing the average time they've spent on Top 3 in that month and the three apps that have most days in the Top 3, will end up being tested.
For August the most days spent on free Games Top 3, in the US:
1. Scribble Rider / 20 days

2. Color Roll 3D / 15 days

3. Brain Wash – Puzzle Mind Game / 13 days
I tried all these games for one day and for the amount that I actually felt like playing. If I got bored, I didn't continue playing.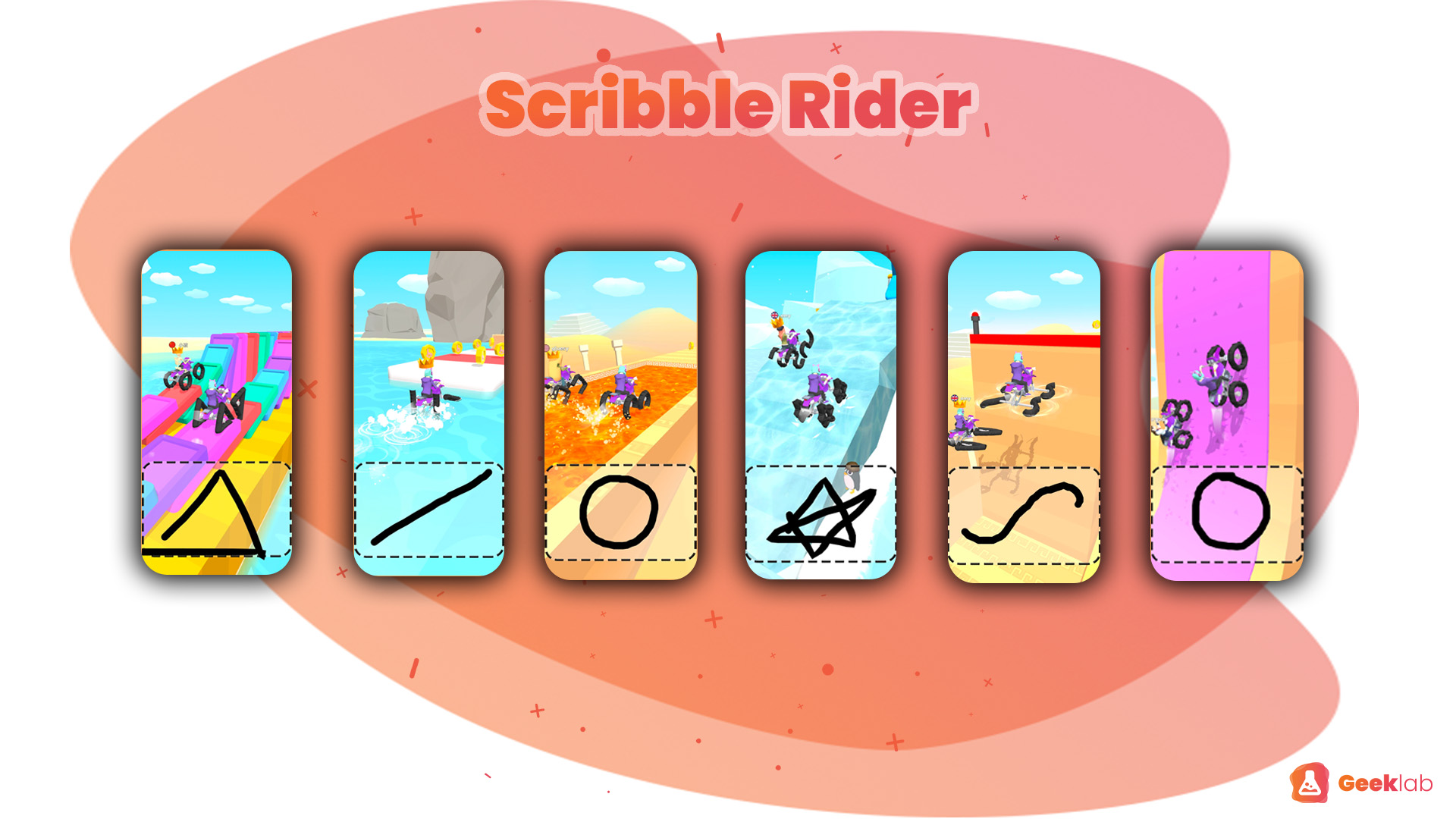 Scribble Rider; My rating: 2/5
First impression from the App Store, is that everything is quite colorful and makes me feel like this is a fun game. The screenshots include videos which work as good instructions for the game. When actually downloading the game and starting to play, there were no actual instructions anymore, so if you had missed the screenshots, you would have to go back to App Store to see them again.
The actual game was fine, but nothing special. The core idea is that you have a bike and a rider, and you are the one who is drawing the wheels to the bike. So you actually have to use your finger to draw them and you can only press the screen one time, so you can not make a line and then lift your finger and draw another; if you do, you will create a new wheel. The wheel can pretty much be any shape, but the track changes all the time. Sometimes you'll have to go through water, sometimes jump off the trampoline. And then you race against others and try to be the first crossing the finish line.
This game includes inside App purchases and you can purchase the "ad-free" version for 3,49e. And oh boy I bet many people do. I haven't seen a game with so many ads for a very long time. And when I say many I mean it. And not that there were many of them, but they all were 30 seconds long, and they came after EVERY level. I bet many people are buying the ad-free version because of that and I guess that is a good way to boost inside app purchases. Overall, I got frustrated pretty fast and ended up playing for 30minutes – from which I probably watched ads 15…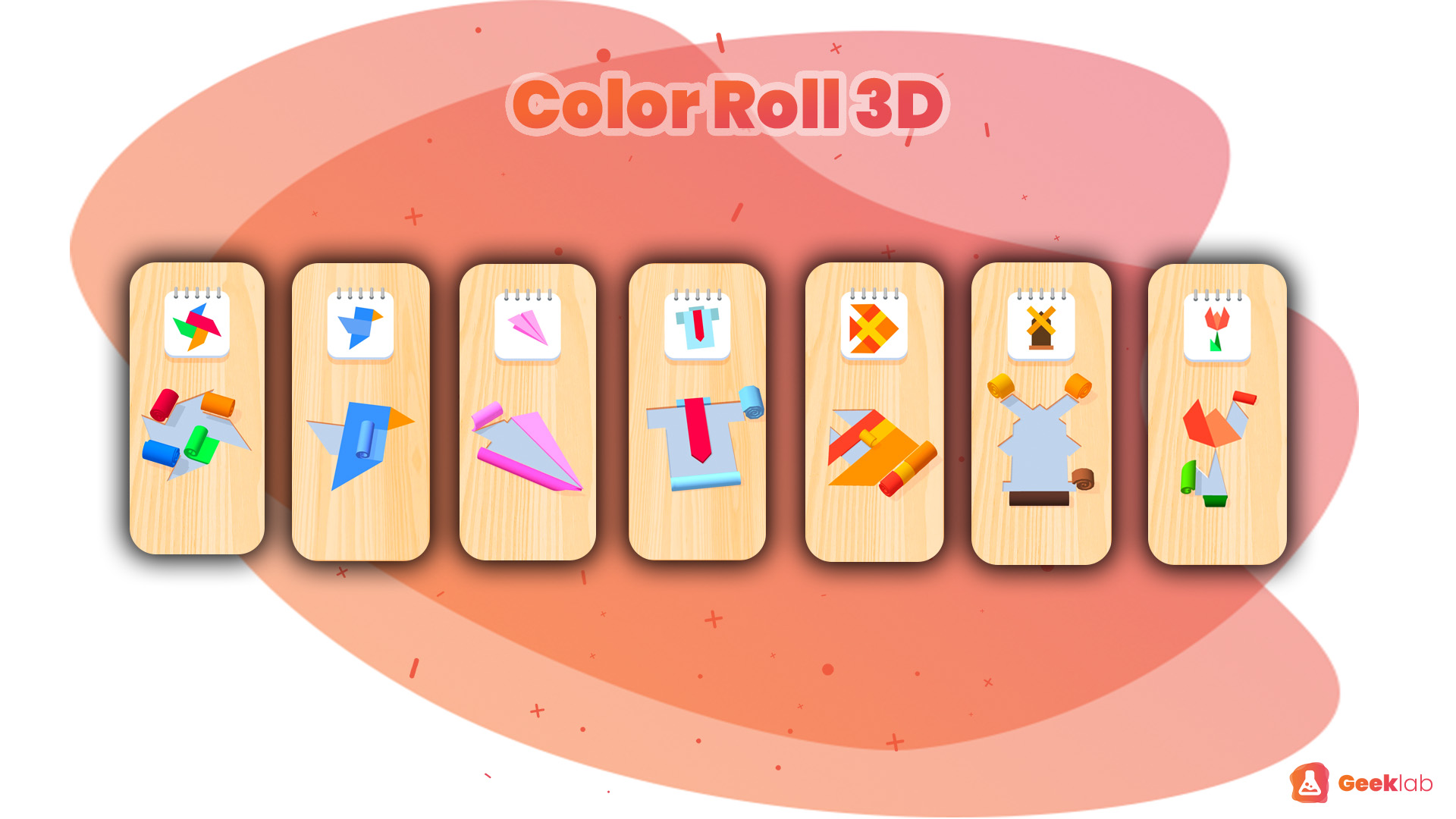 Color Roll 3D; My rating: 2/5
The impression from the App Store is nothing special. The screenshots don't include videos, only pictures and not necessarily any instructions. The screenshots have very neutral colors and give the game a very simple look.
The game itself gave me the impression of trying to be a game for relaxing. In the game you have to fill empty spots on a picture with layers and those layers have to be laid down in a specific order for the outcome to match the picture that is given as an example/goal. The game has a vibration effect for every time you move a layer and you can turn it off if you want to. This is what could give someone a relaxing sensation when playing the game in addition to the satisfying part of completing the picture. Every time you get the picture right, you collect lightbulbs which can give you hints later on in the game if you get stuck.
The ads in this game were very frequent but shorter than in the Scribble Rider. A common length for an ad was 5 to 10 seconds. However, they came almost after every other level, so pretty frequently in my opinion. And the fact that there are no in App purchase possibilities for the user to remove the ads, gave me the feeling of not wanting to continue. Overall, the game got me bored after 15 minutes – not my cup of tea.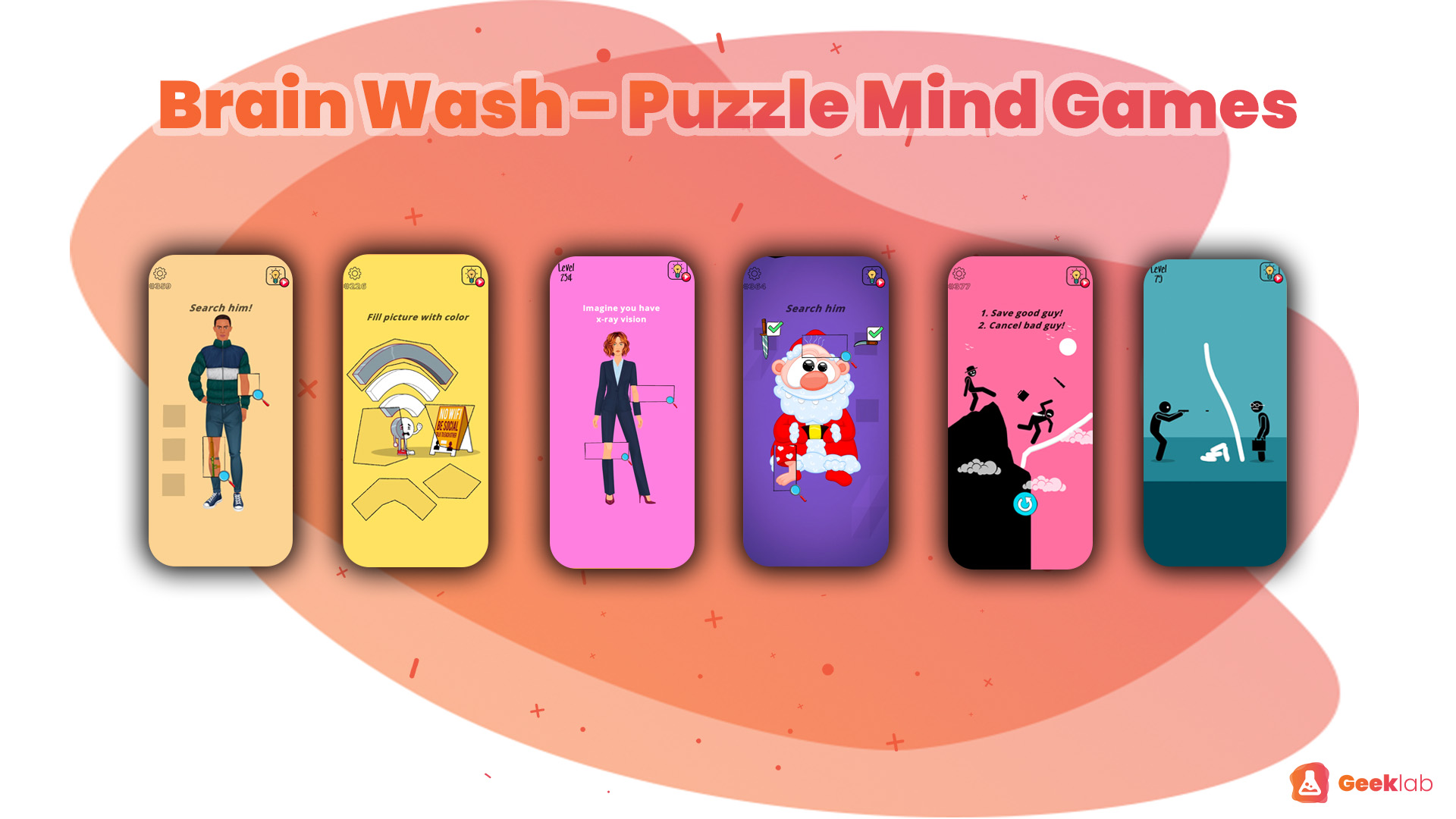 Brain Wash – Puzzle Mind Game; My rating 4/5
The screenshots in App Store were designed with very calm and earthy colors. The screenshots showed the variety of puzzles in the game and gave the game a brief but compact introduction. When I first opened the app, it asked me to allow notifications, which none of the other games did, and I did allow them. During these 5 hours that I have had the game, no push notifications have yet been on my screen.
The game requires you to be over 16 years old and later I understood why. Some of the puzzles contain humor which has a sexual or dark humor vibe. However, this game is not all about those. Many levels contain very important – and some a bit cliche – messages of life, such as Less is More, Work Hard and Follow Your Heart But Take Your Brain With You.
The first two levels of this game work as the instructions, which was a super cool idea! You had to find the right words to complete the sentences, which thus gave you brief but compact instructions on the game.
There are ads on this game as well but they are very brief, under 10 seconds mostly. You can get a hint for a level, if you watch an extra ad, which is 30 seconds long. However, this game as well did not include in App purchases and thus I couldn't get rid of the apps. This is the only thing that made me drop my rating for this game from 5/5 to 4/5. And yes, I am going to keep playing this game – I'm already at level 121!