TikTok is one of the most powerful platforms on the planet right now. It's a place where creativity has no bounds and where laughter, warmth, and even lifelong friendships may be found. However, learning everything there is to know about a platform may take a long time, so I've compiled a list of tips and tricks that I hope will be useful to newcomers as well as long-time users.
Managing your "For You" page
TikTok's algorithm generates the For You page depending on what you like, who you follow, and overall which videos do you interact with. As a result, if you want to watch a specific sort of video, always remember to interact with it by at least clicking the like button. However, if you come across videos that you no longer wish to watch, you may select the option "Not interested."; Click the share button, a menu will appear containing the "Not interested" button, allowing you to select whether you want to hide similar videos.
Protecting your privacy
Many users want to keep their videos a bit more "unavailable" by not allowing other users to download them. However, since phones have screen recorders, there is always a method to download other videos, whether or not you have permitted downloading. As a result, be sure what you upload is something you're comfortable with others viewing on the platform.
Create a video which the viewers will want to watch again
TikTok is all about the number of views and the length of time viewers spend watching your video, known as the "completion rate." For example, you may add a one-second crucial detail to the video that makes the audience want to watch it again, possibly pause it, and thus spend a long time watching it.
Make a live wallpaper
Creating a live wallpaper for your phone is really an effortless way to bring something new and exciting to your everyday screen.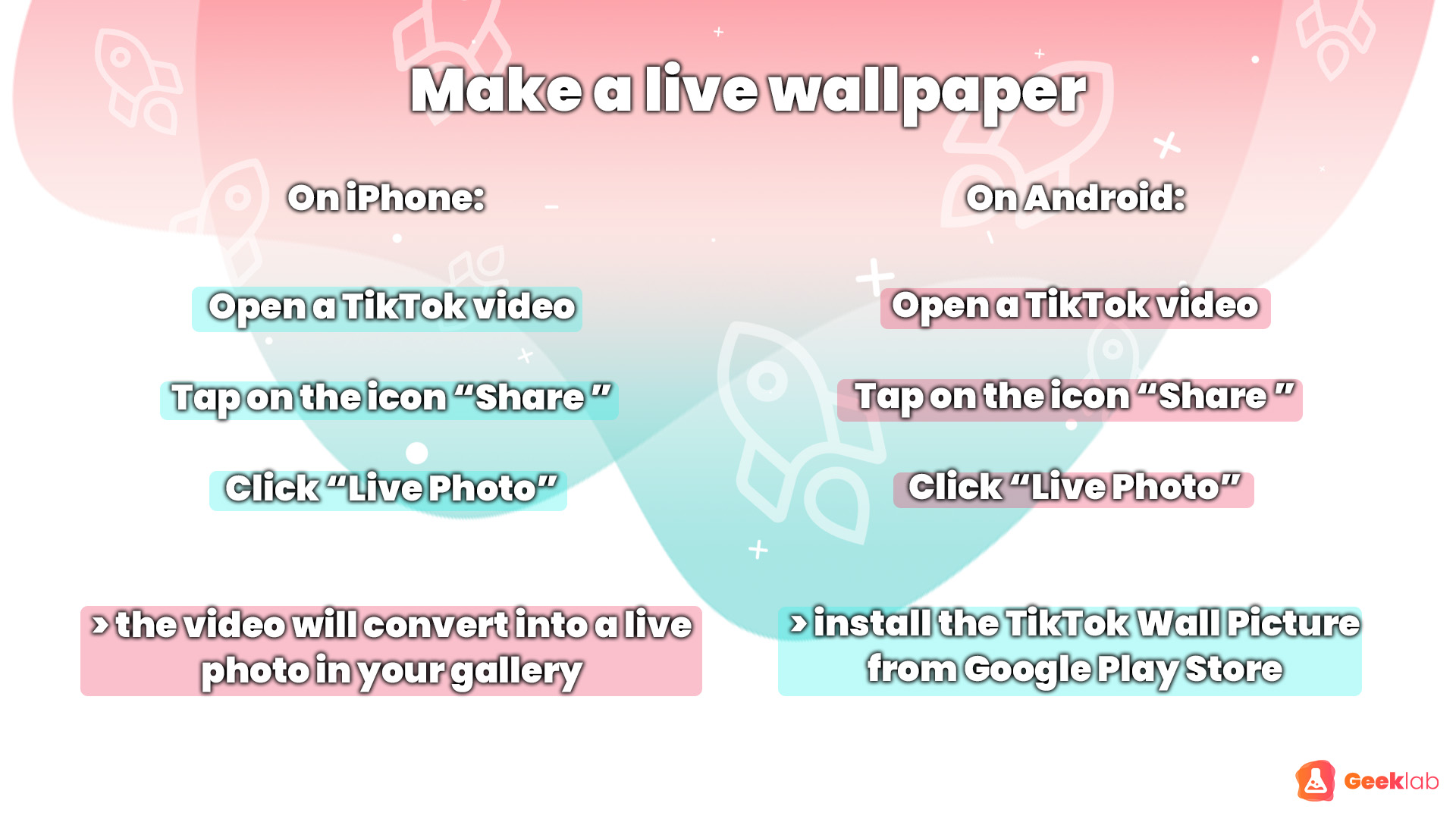 Cheat the TikTok "pause" trend
There has been a lot of debate about TikTok requiring a forward and backward function, and finally, it has become reality. This feature is helpful due to the trend of people making TikToks, that need pausing to expose the video's real content or a hidden detail – controversially to the previously mentioned "1-second details". However, since not everyone hasn't downloaded the newest version of TikTok, or cannot do it due to old devices, there are other ways to bypass this challenging pausing game. If the user who downloaded the video has enabled the "Save Video" option, the pausing game can be easily bypassed by downloading the video to your own phone and thus using your phone's own reel feature. However, if this is not an option, you can also "Duet" the video and therefore use the cutting tool to pause it.
Time usage on TikTok
TikTok, in my experience, can eat up a lot of your time without you even realizing it. Lying in bed, scrolling through TikTok and all of a sudden 4 hours has passed! Follow the guidelines below if you want to establish a time restriction for your children or yourself. To continue after the time restriction has expired, you'll need a password, so, if this is a personal limitation, be sure that someone else is in charge of coming up with a password.