In a few of my previous posts (YouTube Shorts and Instagram vs. TikTok), I wrote about the similarities between the four biggest social platforms. Their features are becoming more and more similar and are bit by bit starting to contain every feature of each other.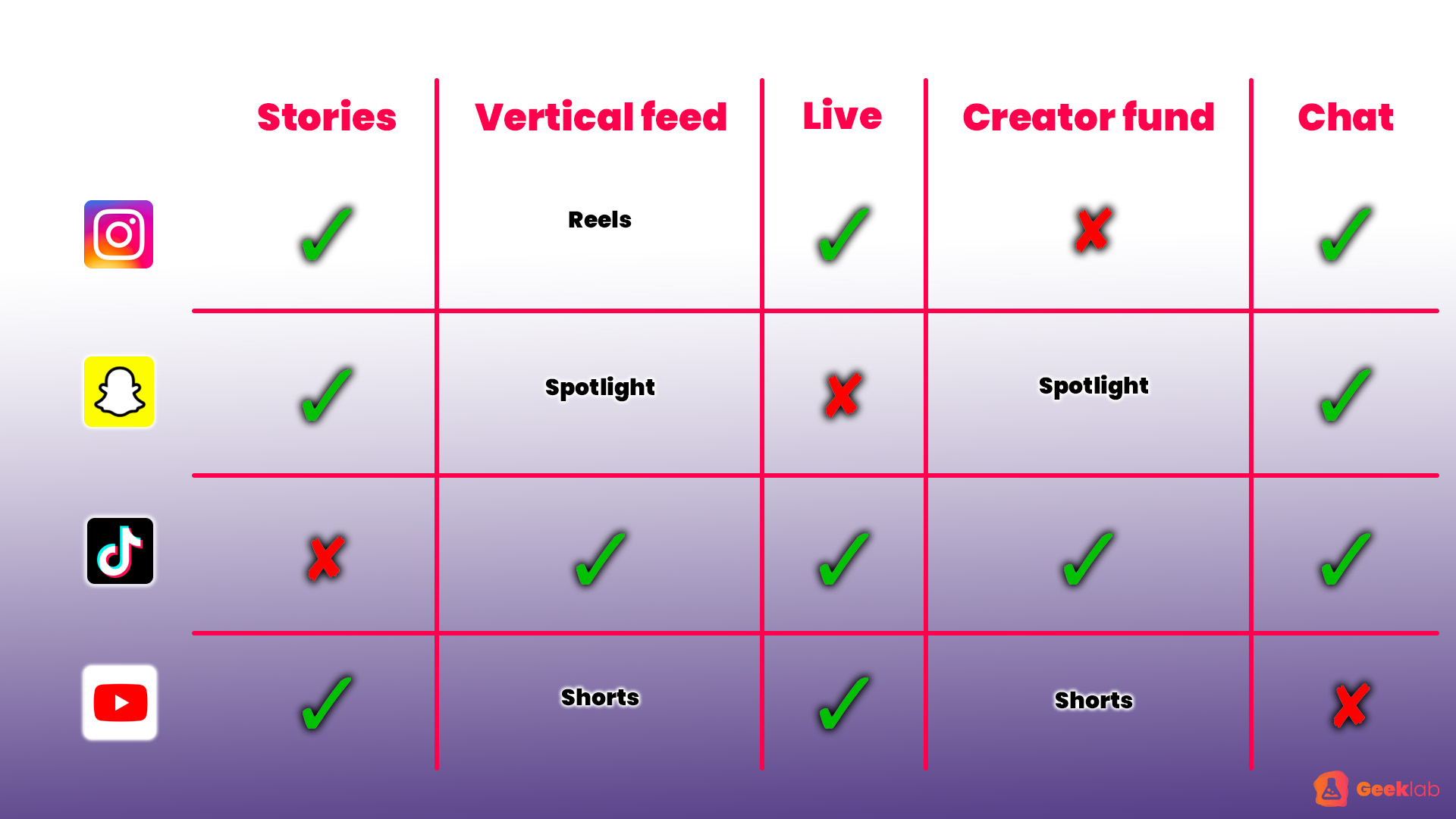 Stories
Snapchat first introduced the Stories feature in 2013, and since then, the tool has grown in popularity across platforms. The Stories feature allows users to submit content like photos, videos, and boomerangs to their stories, which others can thus view and react to. TikTok is currently the only app that does not use the feature, but this could be a positive thing in this situation of over floating similarities.

Vertical feed
When it appears like every platform is using it, the vertical feed has become a hot topic of discussion. People believe that scrolling through a vertical feed is much easier and faster than scrolling through a horizontal feed. It's not difficult to scroll through your stories by simply clicking on the screen, but the vertical function makes the thumb movement seem less time-consuming. Snapchat recently joined the vertical club with the addition of a new feature called Spotlight. In addition, since Reels already has this function, there has been discussions about Instagram adding it to their Stories as well.
Live
Going live is a fantastic feature for users who have a large audience and want to connect with them more. Their fans can ask them questions live on any platform that contains this feature, making it feel like they're speaking with one another.
Chat
Except for YouTube, every other platform has a chat option. And actually, before they decided to shut it down in 2018, YouTube also featured the chat feature.
Creator fund
After TikTok went from being a monetarily non-beneficial app to releasing the Creator Fund, the concept has grown in use. The Creator Fund is distinct from traditional ad revenue because it is dependent on other things like views and their authenticity. There are no restrictions on the number of creators or the kind of content they can publish, as long as they adhere to the Community Guidelines. To be eligible for the fund, you must be based in the United Kingdom, the United States, Germany, Spain, Italy, or France, be at least 18 years old, have at least 100,000 video views in the last 30 days, have at least 100,000 followers, and, as previously stated, obey the Community Guidelines. (NewsRoom TikTok).
However, TikTok is no longer the only platform having a Creator Fund. After the launch of Snapchat's new Spotlight feature, users were given the option to join the Creator Fund. Snapchat's Creator Fund is significantly more open than TikTok's, as anyone over the age of 16 can apply, and you don't need a large following to apply. (NoFilter). Furthermore, YouTube is launching its own Creator Fund for its Shorts section. Everyone is welcome to participate, according to YouTube's own blog article on the subject. YouTube will contact and pay creators each month depending on engagement and views, which is a first for the online video giant. The $100 million YouTube Shorts Fund will be distributed through the end of 2022.
Finally, the Creator Fund is a fantastic approach to recognize and reward people's creativity. I am confident that Instagram Reels will follow in a flash, and there has already been some discussion about it. I think that once more, we're getting closer to these four platforms being identical.