Our first of two significant June updates was released on the 7th of June, just in time for Apple's WWDC2021. This time, we concentrated on one of the most frequently asked topics. Review profiles

Introducing: Review Profiles
At Geeklab, we strive to make the campaign creation process as quick, dynamic, and simple as possible. Product pages typically includes reviews and social proof. Even if you don't intend to test how different reviews effect conversion, we wanted to provide you the option to easily add dynamic reviews to each of your campaigns.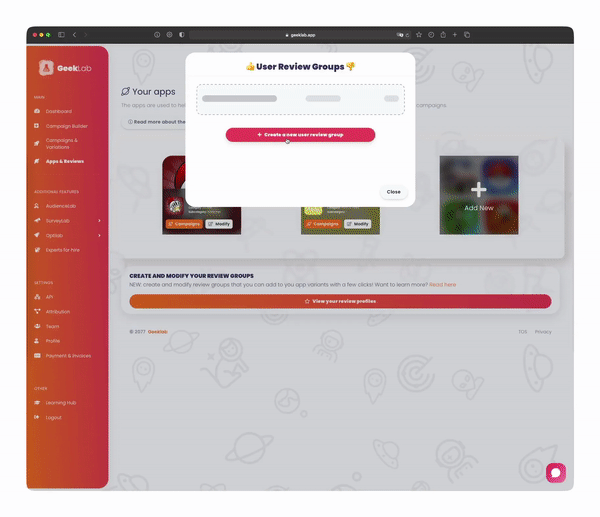 Creating and fetching review profiles
There is currently a new area called Apps & Reviews in the navigation bar, from where the brand new review profiles module can be accessed. The module enables you to create and retrieve comments from the App Store in any language and location.
You can still change, add, and remove comments after Fetching them. You can modify stuff like;
Username [1]
Title [2]
Body [3]
Date [4]
Developer Response [5]
Rating [6]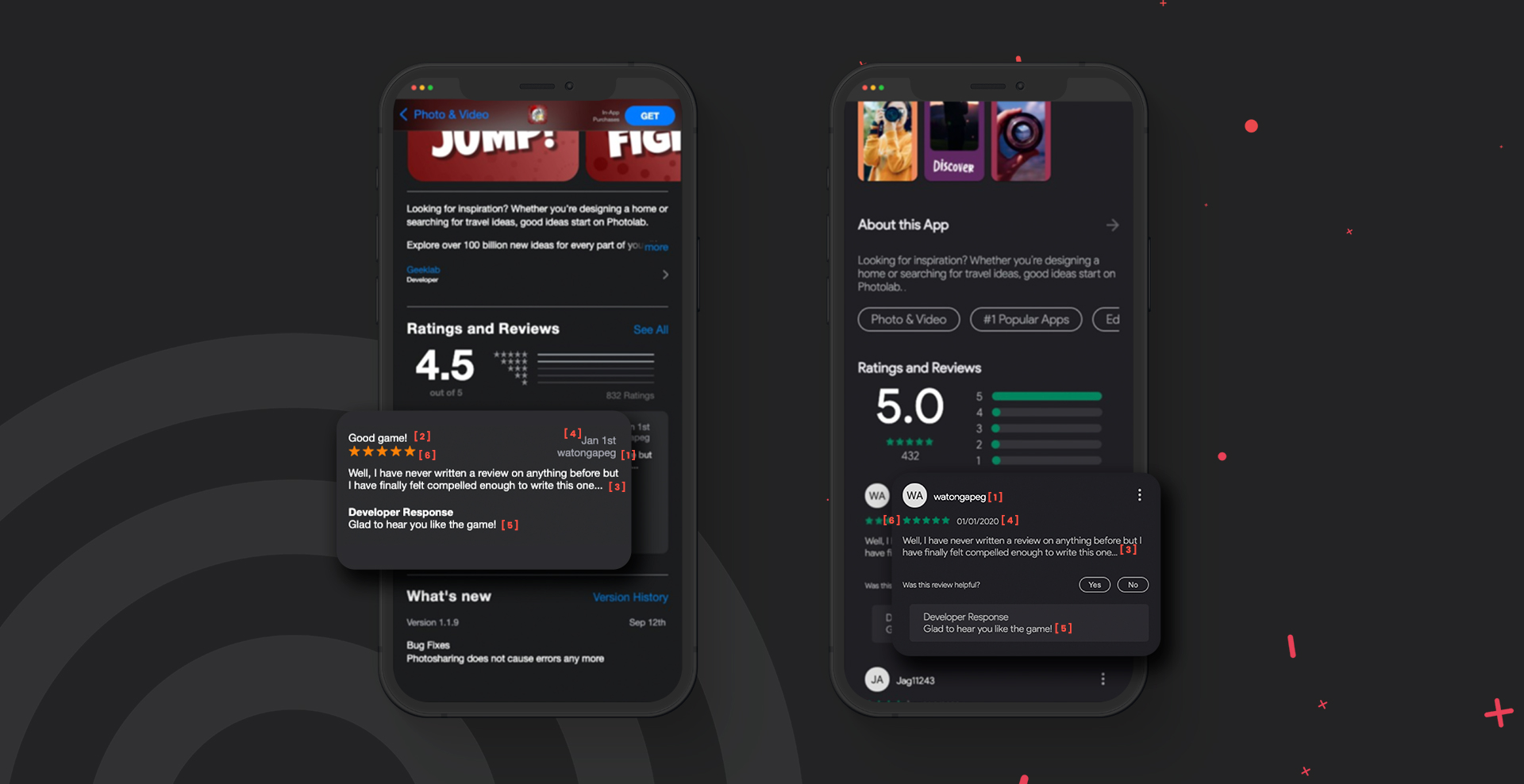 The end user can see all of the different sections, but the review profile name is only available to you and your team mates and is used to relate the review profiles to specific variants.
Note: You can alter the review groups at any time, but keep in mind that because the profiles are dynamic, all variations that use the profile will notice the effect immediately.
Adding Profiles to Variants
We made it as simple as possible to add review profiles to versions. You can connect a profile when designing the campaign in the optional area [7], or after you've submitted the campaign in the edit area. [8].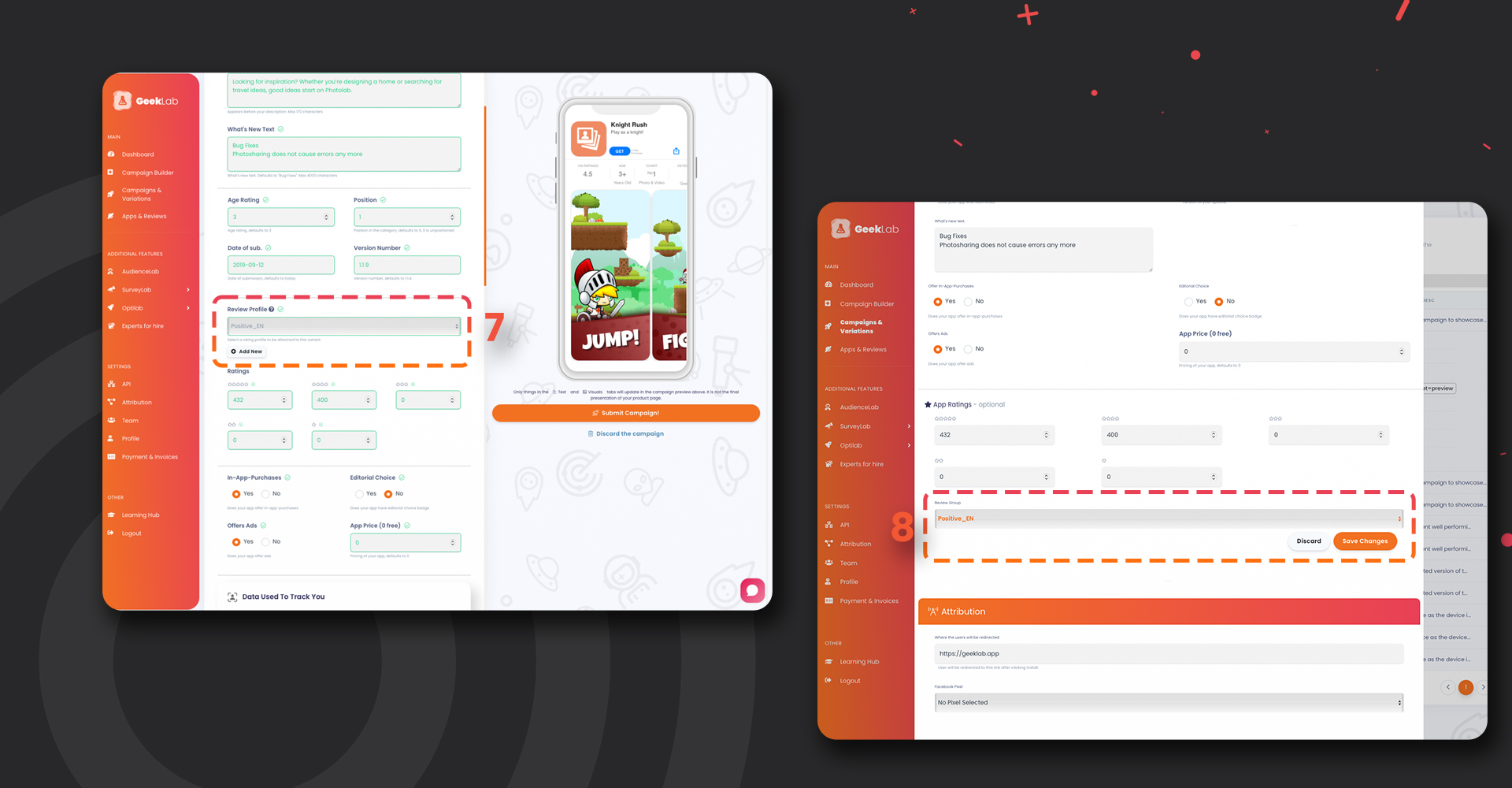 Profiles on the pages
All of the profiles are fully functioning across all platforms. You only need to create one profile in Geeklab for all platforms; we'll handle the rest. The review profiles are completely functioning, and you can always access all of the behavioral data in Geeklab's campaign information.
What else did we do?
With the update we also brought in a bunch of behind the scenes features, that will allow us to push a massive update to our campaign details section within this month. Stay Tuned!