The vast majority of use in Geeklab is centered on concept validation, with users looking for answers to questions such as what would be the best theme or art-style for our product. Would a medieval theme work better than a cyberpunk theme for a puzzle role-playing game? Understanding WHO the audience is critical for properly analyzing these results. After iOS 14.5, our understanding of who the audience is became much more limited, as connecting the various dots along the user journey became much more difficult. That is why we are introducing demographics to Geeklab; you can now attach audience demographics to your campaigns with a few clicks.

Pre-launch testing, also known as marketability validation, is a practice in which you test different versions of your app with a live audience to determine what resonates best with your target audience and has the best market fit.
Demographics
Setting it up
Since our 4.2 update, we've added demographics to all of our campaigns. Our demographics divide gender into three (3) categories: male, female, and other. We've divided the age range into seven categories, ranging from 13 to 65+. As always, we prioritize privacy over all else, so all data is anonymous and only grouped by these segments.
To enable demographics, select yes from the newly added demographics dropdown menu in the attribution section of the campaign builder. The demographics are the same for each variant.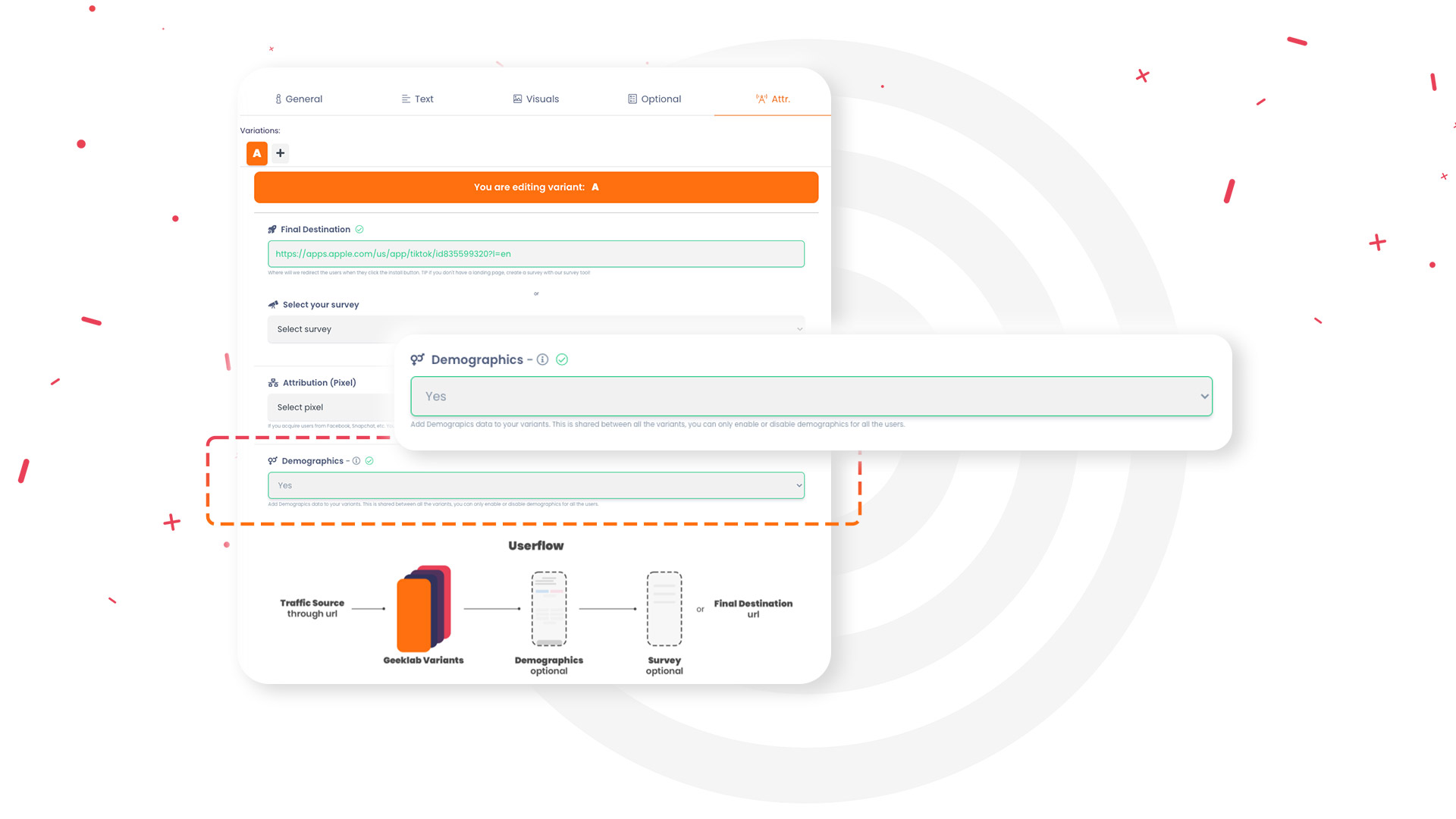 How it works
When enabled, your audience will be presented with a brief survey between your test page and the final destination. Once the user has completed the demographics survey, they have two options for how to proceed. If the user chooses both the age and gender groups, they will be automatically redirected to the final destination. Alternatively, the user may proceed to the final destination at any time by clicking the "continue to download" button at the bottom of the page.

The Results
Once the installs begin to roll in, the demographic data will be available under the "traffic" tab. While the free plan allows you to collect demographic data, the results are only visible for subscriptions and unlocked campaigns. You can sort the results by age or gender for each variant. You can also see the overall distribution by age and gender.