Imagine if Coca-Cola had the opportunity to single-handedly go to every store where their customers make their final purchase decision and make sure everything is perfectly optimized. It seems pretty far fetched right, taking into account that there are over 1.1 million retail establishments in the USA alone.
For businesses that have their primary location in the app-environment, the story is way different. We've got Apple and Google, two direct stores that attributes pretty much the majority of all the downloads and revenue in the app-market. As a marketer, this puts you in a perfect position. You've got all the possibilities in your hands to optimize these platforms. Even tho we're put in this advantageous position, we still miss on multiple things that we could do.
When you do paid-marketing, 50% of the performance is in the ad-networks, but the other 50% is in the app stores. If you rely on organic traffic app stores is all you can do. Through App Store Optimisation, you can try out different combinations of screenshots, videos, icons, and more.
We've seen that one icon change increased the store conversion by 20%. Running App Store Optimisation continuously will have a massive impact on your business.
Google Play and the iOS App Store, not the same
Too many times, can we see the same creatives in both Google Play and iOS Appstore, even tho both of these platforms are entirely different.
Icon, layout, screenshots, flow, so many things that are entirely different in these channels, yet we still see that developers apply the best practices from Google Play to App Store, without further testing. And there's also a lot of developers who don't optimize at all. Maybe you don't have the tools in place; perhaps you don't know how much value it can bring, or perhaps you just don't have enough time.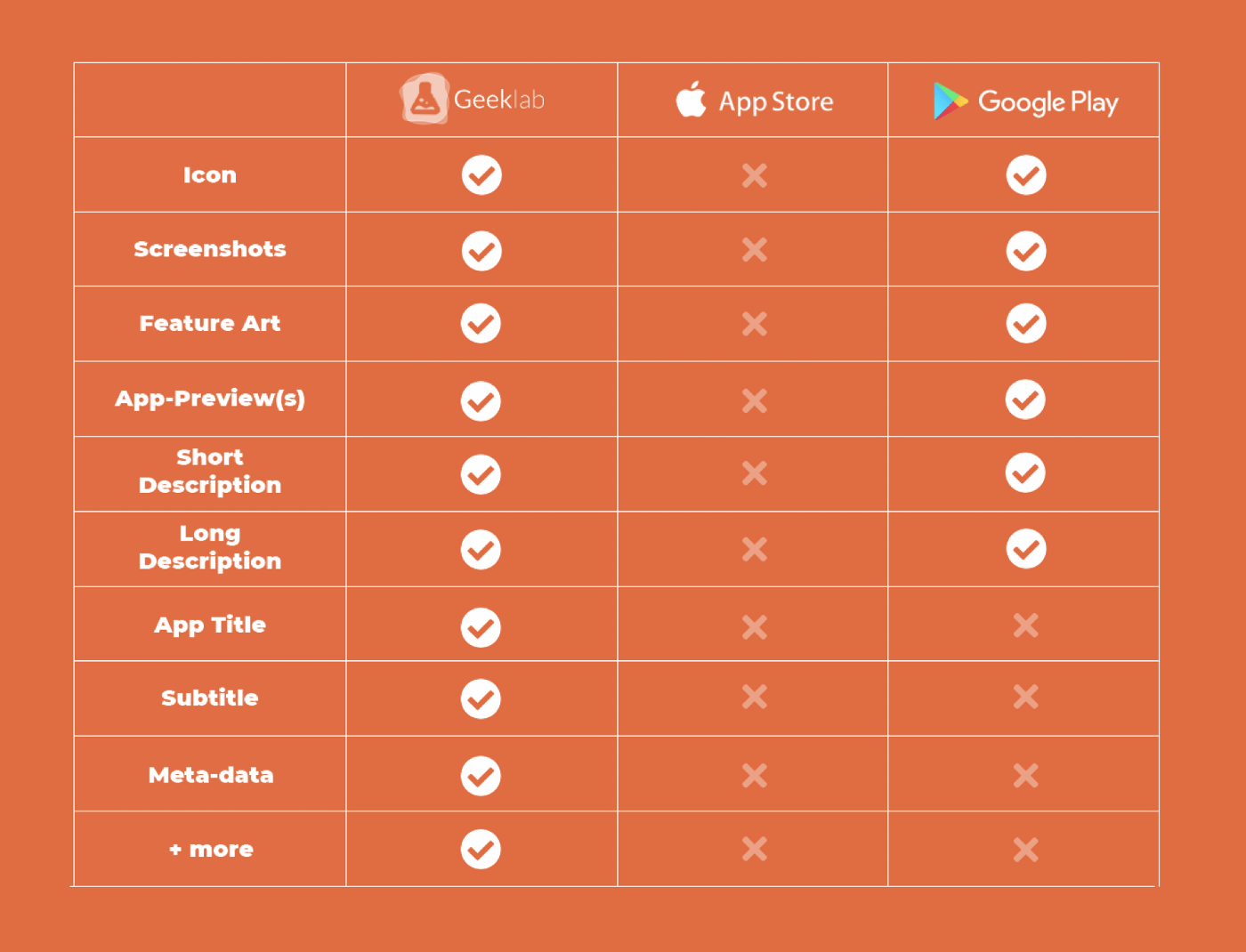 How to get started ?
To get started, you can start running tests in Google Play for free. This is highly recommended and can improve your performance in Google Play quite a bit. It will get you started, but it's unfortunately not enough.
With Google Play, you are not able to segment your customers in any way. The test results get mixed with all the organic and paid traffic. So if you want to optimize your paid traffic, it isn't possible with Google. Also, if you're going to test holistic concepts (everything from the Facebook ad to the store page), you cannot do that with Google Play as you lose the connection between your ad to the specific page as Google randomizes the traffic between all the variants. App Store, on the other, doesn't allow you to test anything.
This is why we created a company that allows you to tackle these issues. With Geeklab, you can test anything on a look-alike store page, after which you can redirect users to either the real App Store page or whatever location you want.