We've had this problem with iOS mobile marketing for a long time…

Users may discover your app through word-of-mouth, organic search, featuring, or any of the paid acquisition channels we commonly employ.

When you combine this with different audience sets, marketing strategies, and messages, the possibilities are endless.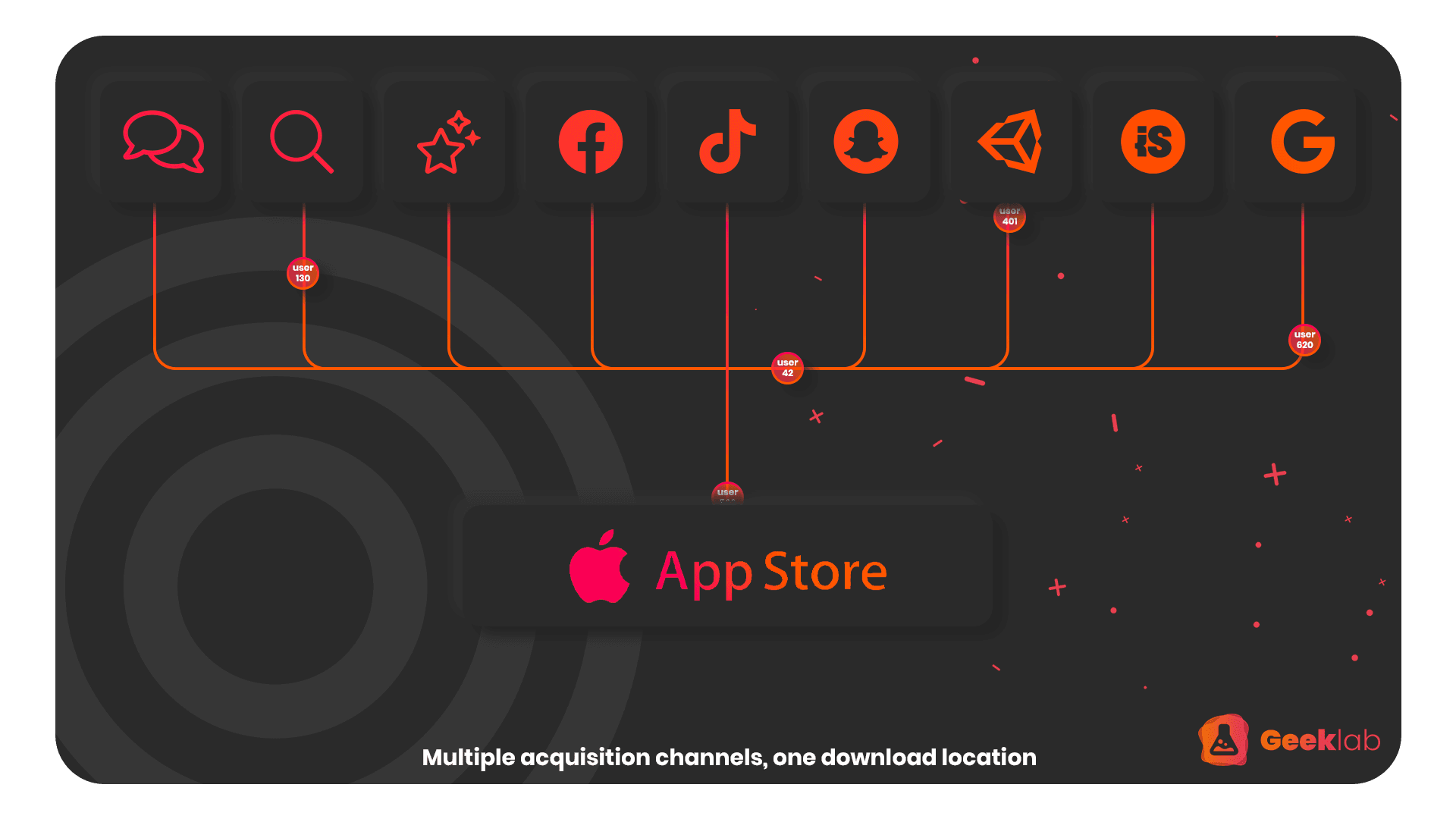 Regardless of where they came from, all users had to download your software through a same set of icons, screenshots, and the rest of the metadata. This is and was a dilemma that required us to constantly weigh which of these channels we believed would provide us with the highest ROI, which one should we optimize the most, without eliminating the rest of the funnels.

Until Now…
We've just seen chosen developers gain access to in-app events, implying that the rest of the functionality are just a few steps away from being rolled out widely.

Apple's Native A/B Testing Tool: Product Page Optimization
We can finally optimize the store for search, word of mouth, and traffic from App Store Featurings the way it should be, natively in the real App Store, with a random mix of traffic, thanks to Apple's Product Page Optimization.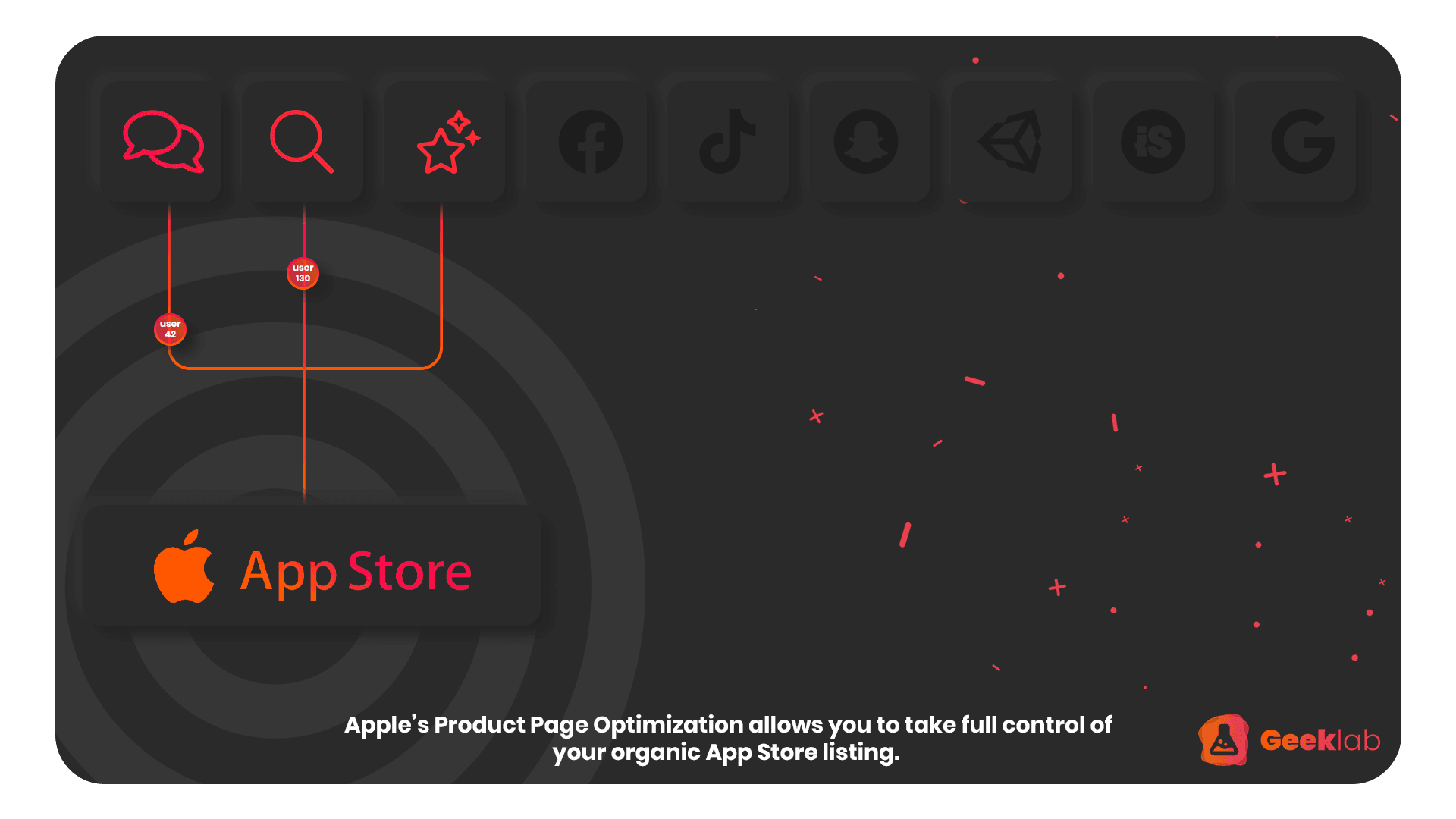 How to setup the test?
Product Page Optimization allows you to run tests to determine which product page is performing the best for your app with organic traffic. Each test can include up to three treatments and be localized in the languages you choose. Treatments are presented to qualified users at random, and statistical analysis is provided in App Analytics.
You get to choose which localisations are affected for each product page test, the number of treatments (from 1-3), and the traffic proportion you'd like to obtain to the test product pages, ranging from 75% to 0%.

You must ensure that your app binaries have all of the different variants for icon tests, but the rest of the visuals are much more testable.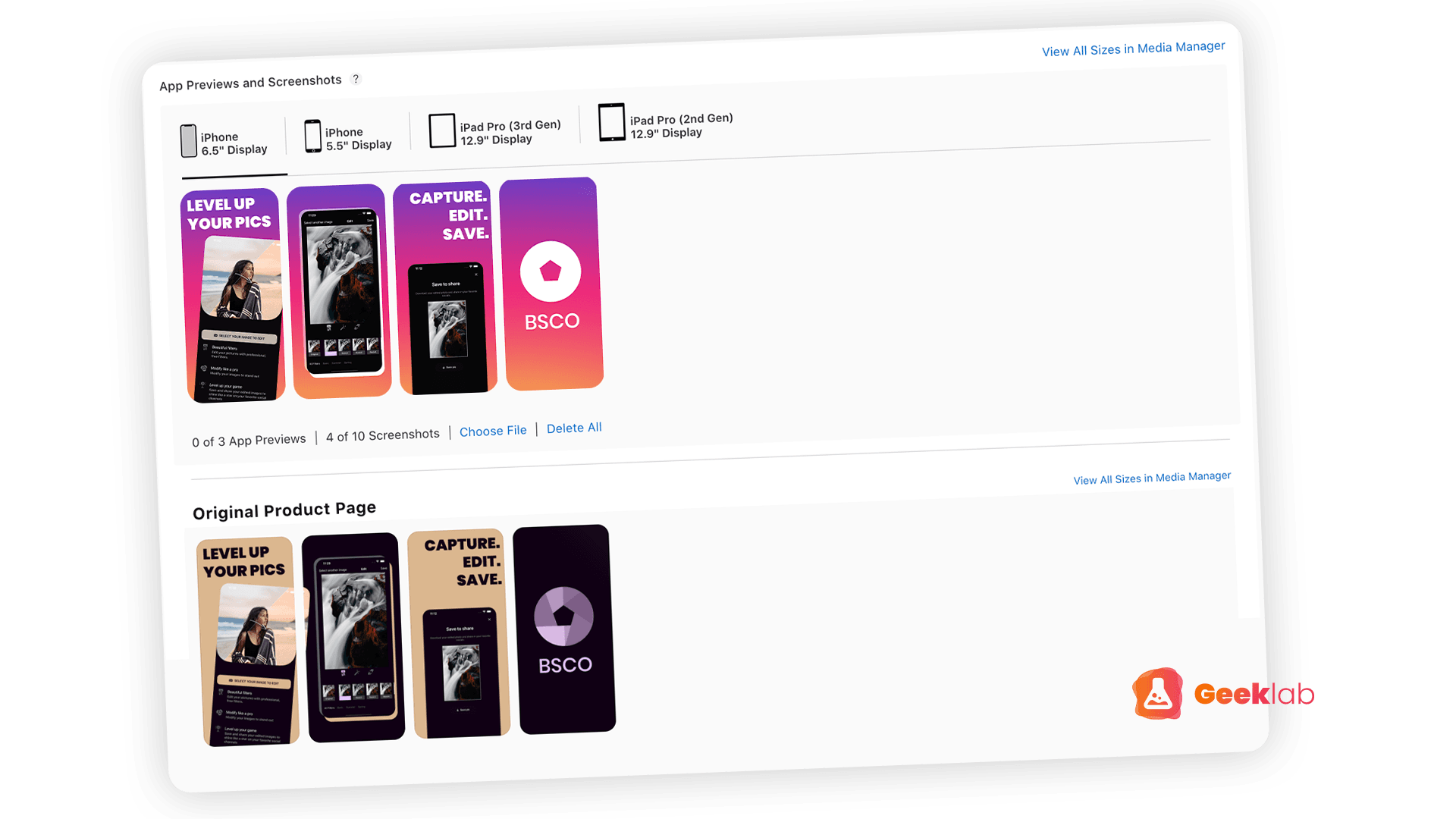 When you create the test, you may upload your creatives in the same way that you would with App Store Connect. Up to ten screenshots and three app preview videos may be uploaded.

Once you start the test, it will be reviewed by Apple, and you will be able to optimize your native page in the real store!

Under statistics, you can now see the results of your testing in the newly redesigned Acquisition tab, which includes the product pages area. Product page optimization may be found there, and it will break down your tests and variants by product page views, total downloads, and conversion rate.

Apple's way to boost marketing: Custom Product Pages
You now have 35 alternative pages to use with different paid channels and audience settings thanks to Apple's Custom Product Pages. We're thrilled to announce that, through our platform Geeklab, we can now provide you with A/B testing options for all of these distinct pages and channels, with increasingly sophisticated multivariant tests and detailed statistics.

How to setup the custom product page and an extremely optimized marketing funnel?
The first step is to divide your paid acquisition channels into different segments. Different marketing strategies, acquisition channels, player profiles, specialized keywords, and selling factors can all be used to create these segments. If you want to discover more about how we approach segmentation, please visit our agency.

It's time to test your assumptions when you've divided your marketing funnel into a maximum of 35 separate segments per localization. With Geeklab's Universe plan, you can run limitless tests with infinite plans to maximize the effectiveness of each marketing funnel.

Setting up campaigns and specific ad sources on Geeklab is really simple and takes less than 5 minutes. More information can be found here.

After you've identified the highest performing product page for your custom marketing funnel, upload the winning creatives to the app store and construct your first custom product page.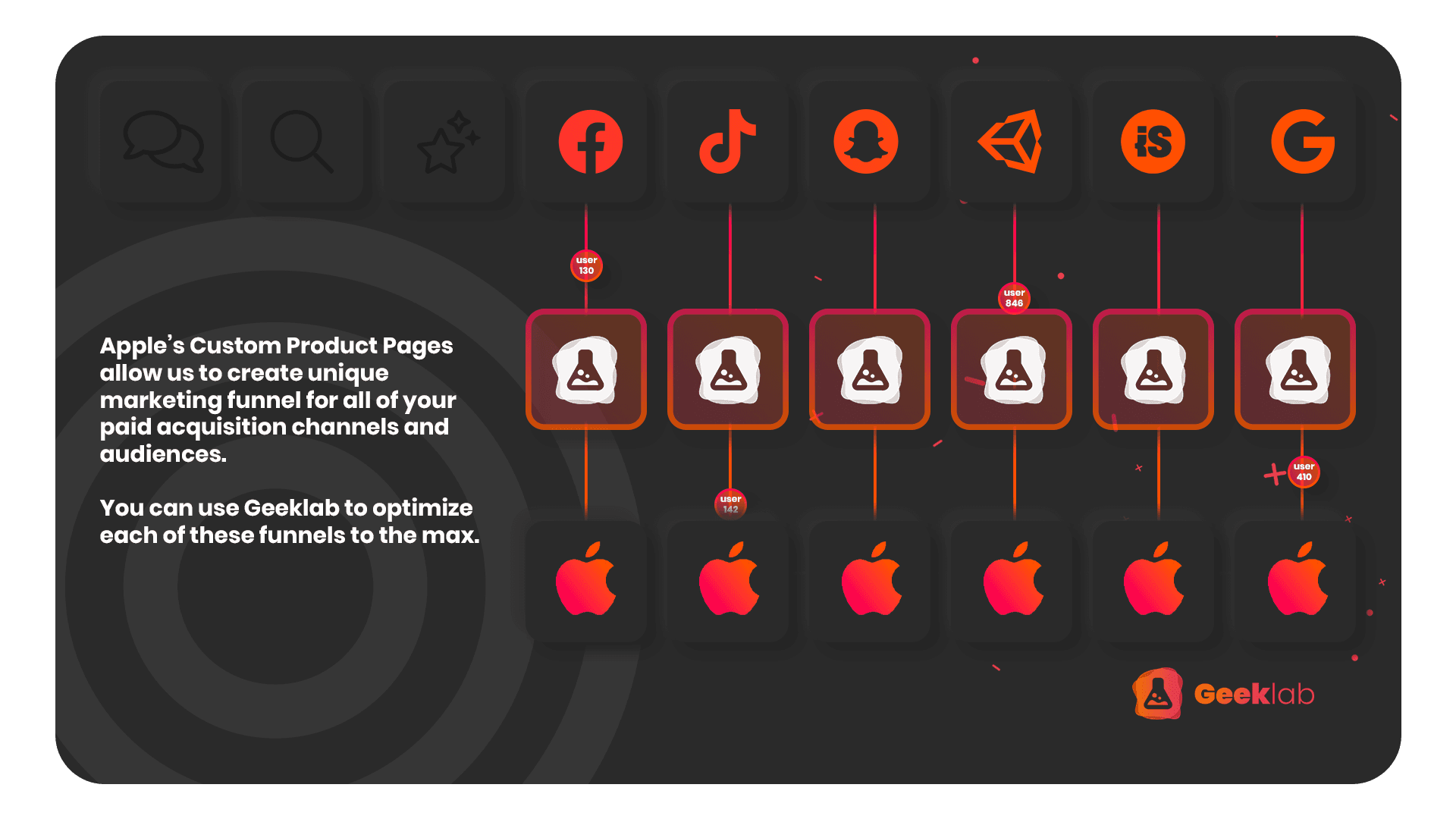 Under the Features area of your App Store console, you'll find a tab called custom product pages, where you may create custom product pages with varied (1) app previews, (2) screenshots, and/or (3) promotional texts. Custom pages can be used to help promote specific campaigns through direct URL links.

You must give the custom product page a reference name and decide whether to clone an existing custom product page or start from scratch when constructing it.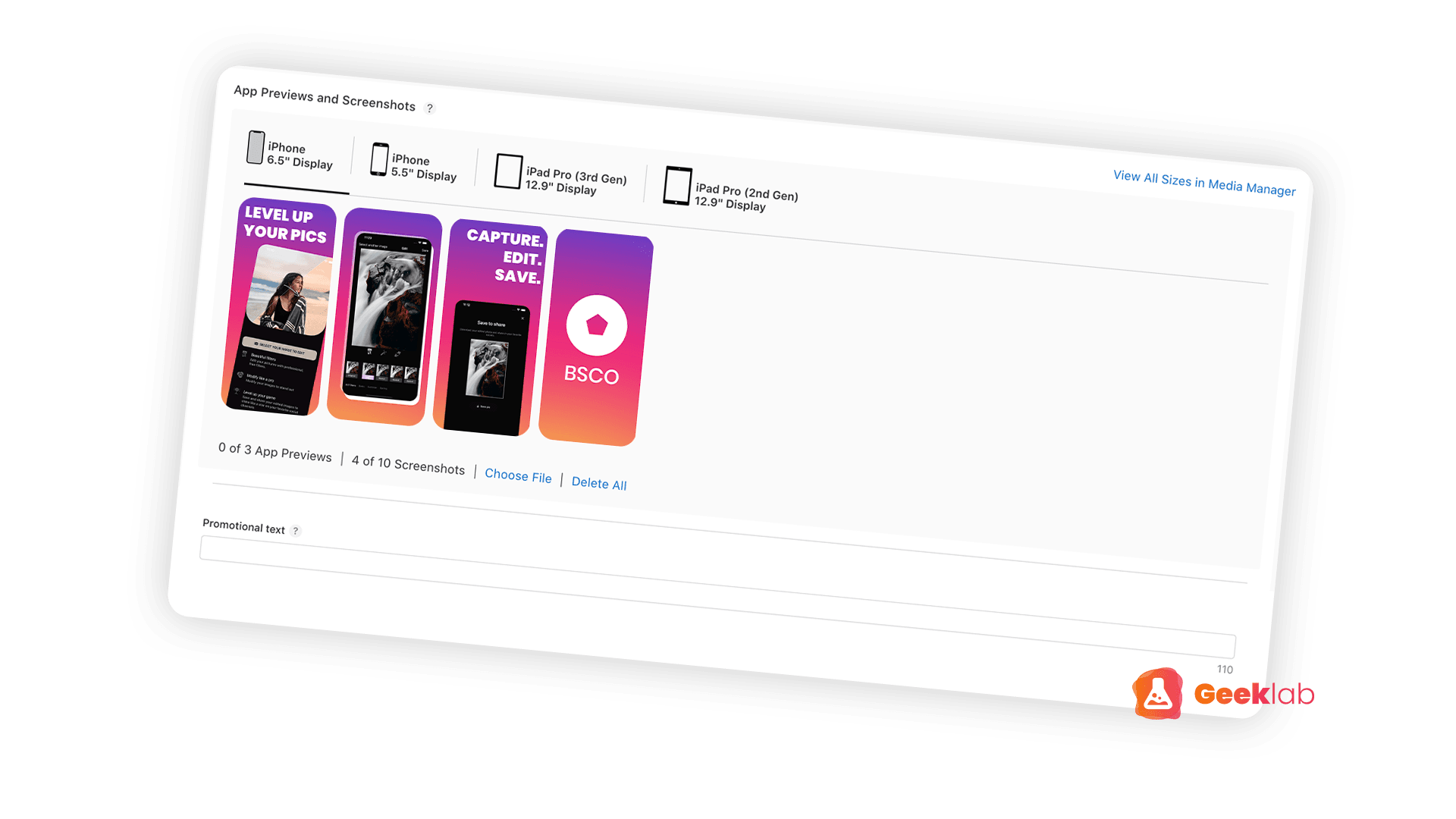 Following the creation of the page, you will be redirected to the App Store Connect view, where you will be required to add up to three App Preview Videos, ten screenshots, and the promotional text. You have access to the same sizes as you would with a traditional app store submission.

When you're finished, you may submit the personalized product page for approval. You can now discover a custom url, which you can use to let visitors access your brand new custom product page, once it has been submitted, evaluated, and accepted.

How to manage all of this?
Even for larger teams, 36 pages plus all the numerous localisations can feel like a daunting effort. That's why we've been preparing for this moment for the past six months. Our business has scalable internal systems that will enable you and your team to maintain 36 constantly optimized marketing funnels for each of your goods and target markets.
Contact us, to hear more about our App Store Management.
Let's get down to business and fill the app store with outstanding creatives, and most importantly, save millions together.