Apr 1st 2021
Geeklab's internal taxonomy
At Geeklab, we've played with a lot of different terms in the past year, so having our internal taxonomy in place is something that's long overdue. We've played around with terms like campaigns, product pages, variations, apps, everything meaning sometimes the same, sometimes different things.
Basis
New taxonomy, consists of three different layers. Everything at Geeklab consists either of Apps, Campaigns or Variants in that order.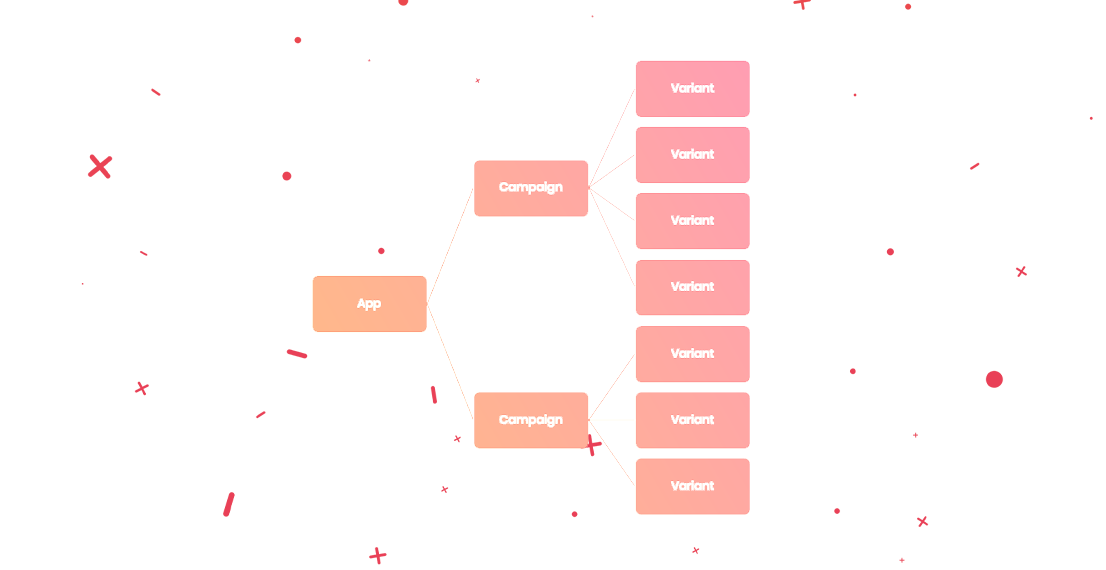 ⭐️ Apps
As you might have hundreds of campaigns belonging to multiple different projects, we cleared things up by creating a section called apps. You can create as many apps as you wish from the apps section in the dashboard. To spice things up and make the dashboards exciting to look at, you can give each app a specific icon, banner art as well as genre and sub-genre.
From the apps section, you can also assign old campaigns or new ones to different apps. Each campaign can only have one app. This is something you'll also be able to pick when you create a new campaign. Just create a new app or select one of the apps you've created from the dropdown on the "Parent App" section.
⭐️ Campaigns
Campaigns are as flexible as everything else in Geeklab. Campaigns do not actually hold any data inside them. Campaigns are used to measure different variants against each others as well as to get a campaign tracking link that will randomly distribute traffic between different variants inside that campaign.
You can edit the campaign and attach different variants to it afterwards from the campaigns section. Removing a campaign or removing a variant from the campaign won't delete the variants or any of the datapoints.
⭐️ Variants
Under each campaign you can create as many variants as you want. We do recommend to keep it maximum five, to achieve statistical significance faster. You have the opportunity to create as many as you wish, however our UI might break as you have more variants than there are letters in the alphabet.